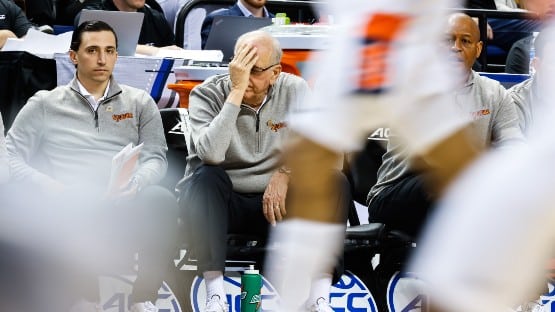 Syracuse's season came to an end in gut-wrenching fashion as Wake Forest's Daivien Williamson buried a three-pointer with a half-second remaining for a 77-74 win in the second round of the ACC Tournament on Wednesday.
The real drama came minutes later when Syracuse head coach Jim Boeheim said in the postgame presser that while he would like to return for a  48th season, the school has been quiet on that possibility.
So is the Jim Boeheim era over at Syracuse?
Boeheim gave a twisting, turning and weaving answer to that question regarding his plans for next season, saying while it's up to the university, he "gave his retirement speech last week and nobody picked up on it."
Ultimately, though, Boeheim said he would hope that he and Syracuse can come to a "good agreement," and he would not specifically say his career at SU is over.
Boeheim's all-time head coaching record through 47 seasons at Syracuse would stand at 1,015-441 if indeed today was his final game.
"You know, as I've said from day one when I started working here, the university hired me, and it's their choice what they want to do. I always have the choice of retirement, but it's their decision as to whether I coach or not. It always has been," said Boeheim.
My take on Boeheim's comments is that March 8, 2023, was it for him.
After years of speculation as to when Boeheim would finally walk away from the court, today felt like that day.
If indeed today was it, Boeheim took the opportunity to reflect on his career.
Boeheim, pausing, his voice breaking at times, mentioned how fortunate he had been to have been at Syracuse for so long, and to have coached his two sons.
But in the high-stakes game of men's college basketball, Syracuse has sputtered lately. The Orange has finished seventh or better in the ACC only twice in their 10-year ACC history, and have never advanced past the quarterfinals of the conference's brightest stage, the ACC Tournament.
The day that Jim Boeheim no longer coaches Syracuse basketball may have arrived.
For real.