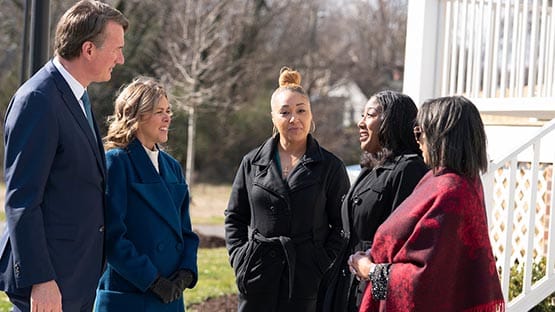 The first Spirit of the Virginia award in 2023 was presented to the Southside Community Development and Housing Corporation, a metro area community development organization focused on cultivating housing and financial self-sufficiency for primarily Black, Hispanic and women-led households.
The mission for the Richmond-based corporation is to build viable, thriving and sustainable communities through affordable housing and wrap-around support services.
The award was presented Friday by Virginia Governor Glenn Youngkin and First Lady Suzanne Youngkin.
"For more than 30 years, Southside Community Development and Housing Corporation has helped countless Richmonders prepare for and achieve home ownership. If 'home is where the heart is,' then Glenn and I laud the hearts that are forever changed by the good works of SCDHC," said Suzanne Youngkin.
Southside Community Development and Housing Corporation has built homes in more than a dozen neighborhoods and developments throughout the Richmond area, totaling 750 units of affordable housing with 450 as single-family affordable homes.
In 2022, the organization served nearly 800 clients through their housing counseling and educational services, including foreclosure prevention, rent relief and workforce development tools.
"SCDHC appreciates the honor of being a recipient of the Spirit of Virginia Award. We are elated that the arduous work we do to ensure the equity in housing for people of color is recognized by the First Lady of Virginia," said SCDHC President & CEO Dianna Bowser.
The Spirit of Virginia Award recognizes unique qualities and standout achievements across the Commonwealth and salutes Virginians for their uncommon contributions in private industries, education, culture, the arts and philanthropy.
Governor Youngkin and the First Lady will name five more Spirit of Virginia Award recipients in 2023.
Learn more about the award here.