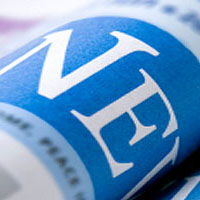 First National Corporation (the "Company") (OTCBB: FXNC), the parent company of First Bank (the "Bank"), announced today the opening of a new Loan Production Office in Harrisonburg, Virginia.  The new office will offer commercial and mortgage lending services.  The Company is excited to have recruited two seasoned banking professionals in the Harrisonburg market, including Jeffery R. "Jeff" Smith, Vice President/Business Development Officer and Thomas M. "Tom" McGloon, Vice President/Mortgage Loan Officer of the First Mortgage Division.
Jeff, a Dayton native, joined the Company in September and brings over 23 years of local market experience in both commercial and mortgage lending.  Jeff and his wife, Pam, have been actively engaged in community activities and local athletics.  He graduated from Turner Ashby High School and Bridgewater College, where he obtained a BS in Business Administration.  Jeff is also a graduate of the UVA School of Bank Management offered by the Virginia Bankers Association.  Jeff and his family are residents of Harrisonburg.
Tom McGloon joined the First Mortgage Division in August and brings over 10 years of expertise in mortgage banking with first time homebuyers, all conventional and government loan programs and is also proficient with construction-to-perm loan programs.  Tom and his wife, Brenda, have been actively involved with the Shenandoah Valley United Soccer League.  He is a graduate of James Madison University, where he majored in Political Science and is also active in the JMU Duke Club.  Like Jeff and his family, Tom and his family are residents of Harrisonburg.
"We are very excited to have Jeff and Tom join our Company; both offer superior service and vast banking experience", stated Dennis A. Dysart, Senior EVP/Chief Operating Officer.  "This new office represents a great strategic opportunity for our Company, as we expand operations southward in the Shenandoah Valley.  We look forward to serving the financial needs of Harrisonburg and Rockingham County."
This new office is located at 727-C E Market Street, Harrisonburg, Virginia 22801, in the Shannon Hill Office Complex.
First National Corporation, headquartered in Strasburg, Virginia, is the bank holding company of First Bank that first opened for business in 1907.  First Bank offers loan, deposit, trust and investment products and services from 12 office locations throughout the Shenandoah Valley region of Virginia. Banking services are also accessed from the Bank's website, fbvirginia.com, and from a network of ATMs located throughout its market area.  First Bank owns First Bank Financial Services, Inc., which invests in entities that provide investment services and title insurance.  First Bank also owns and operates the First Mortgage Division.