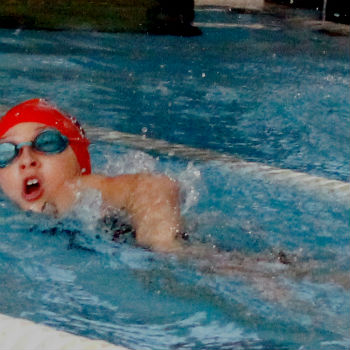 The Waynesboro Y year round competitive swim team, SMAC, (Shenandoah Marlins Aquatic Club) competed at the Hokie Invite in Christiansburg, VA November 14-16 and the SMAC Invitational in Waynesboro November 22-23.
The meet at the Virginia Tech pool was designed for our older and more experienced swimmers while the meet at the Y was geared to our younger swimmers.   SMAC brought 58 swimmers to the SMAC meet and 26 swimmers to Hokie Meet.  These were the final meets before the swimmers race at championship style meets in December.  Short course season (races swum in 25 yard pools) generally runs from September – April and the team focuses on a championship meet halfway through the season in December and another championship meet at the end of the season.
SMAC swimmers had many personal best times and number of swimmers competed in events for the first time.  There were a lot of young swimmers who competed in the 200, 500 and 1000 yard free for the first time in their careers as well as the 100 fly, 100 back and 100 breast stroke.  The swimmers rose to the challenge and competed admirably in the new and longer events.
A few of the highlights of the meets were that 2 SMAC records were broken.  Jake Zamalis broke the boys 15 and over 100 breast stroke record which was set by Josh Rady way back in 1991.  His time of 59.08 was an AAA time standard.  Hailey Ruszala broke the girls 8 and under 25 freestyle record that was set by teammate Haley Sheffield last season.  Her time was a 15.10.  The following swimmers swam at least 6 lifetime best times:  Cameron Aenchbacher (7), Ryan Boyce (17), Syndney Hill (9), Carson Lawhorne (10), Davis McKellop (9), Ryan Mercer (10), Rachel Murie (11), Cameron Murie (13), Pat Paiste (17), Clara Riggan (12), Hailey Ruszala (8), Julia Smith (9), Jackson Schundler (10), Haley Sheffield (9), Sierra Sloat (8), Krinsten Wagner (12), Keelin Wolfe (17), and Sterling Wissler (7).  Congratulations to all the swimmers for their hard work and dedication to the sport.  The hard work by the swimmers and dedication by the coaches has kept the tradition of SMAC producing great swimmers and great young men and woman over the past 40 plus years.
SMAC currently has openings in its younger age groups that practice M, W, F from 4-5 pm and Saturday 9-10 am.  If you have interest contact Coach Norm Wright, Director of Competitive Swimming at the Waynesboro Y at 942-5107 or email him at [email protected].
For more information about SMAC, please visit their website: www.smacswimming.org.