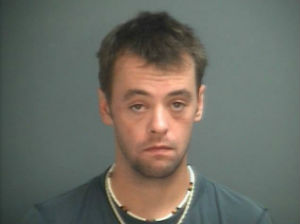 The Waynesboro Police Department is requesting assistance in locating a stuarts draft man who fled police after a domestic disturbance last month.
On Feb. 12 at approximately 9:30 a.m., officers responded to a residence in the 300 block of Wayneridge Road because the female resident reported that her estranged husband was trying to get into the home.  When officers arrived, Christopher Jay Dovel, 29, was driving away in an Acura Integra.  An officer attempted to conduct a traffic stop on his vehicle.  Dovel initially stopped but then drove off as the officer was trying to approach him.
In the nearly 10-minute pursuit that followed, Dovel drove through other neighborhoods at nearly 20 mph over the speed limit, disregarded red lights and highway signs and drove through the Waynesboro Commons shopping center before he got on Interstate 64 at Rosser Avenue.  The officers ended the pursuit at that point.
Dovel is wanted on one count of felony eluding.