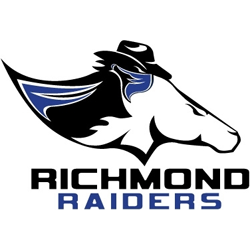 Season tickets for the Richmond Raiders' 2015 season are now on sale, the team announced today. Among the highlights of season ticket packages are reduced prices on over 1400 lower level seats, expanded Super Suites, and discounted prices on family packs. Season tickets are available for purchase by calling 804-780-0430 or in the online store at RichmondRaidersProFootball.com.
The Raiders will play six home games in the Richmond Coliseum between March and June 2015. Last year's home schedule included dramatic comebacks, prizes and giveaways, music and entertainment, and action packed indoor football. Get your season tickets now and make sure you're there in 2015! All season tickets purchased before February 15 will be discounted over 16% from game day prices. Whether you want to be so close to the action that you can high five the team or you want to be higher up with great views of the field, Lady Raiders, and all the in-game entertainment, there's a season ticket package for you.
The newly created Gridiron seats in the lower level are priced at $10 per game and $50 per season ticket. These seats include sideline and corner sections. One of the corners will be known as Risky's Corner and will be guaranteed several visits from Risky, the Raiders' lovable mascot, during each game. The remainder of the lower level is available at the same prices as last year: $12 per game and $60 per season ticket.
Super Suites made their debut in 2014, and were so popular that they will be expanded for 2015. Three additional Super Suites will be installed in front of section 18L, convenient to the Coliseum Club. These field level private suites give unparalleled views of the action from tall directors' chairs and high top tables, and come with table service and special menus. Each Super Suite has a minimum occupancy of four, with larger capacities also available.
While all seats are discounted with an advance season ticket purchase, some of the best seats in the house are discounted even further when bought in groups of four or more. All lower level $60 tickets are reduced to $55 apiece for such groups. These include seats at midfield starting five rows from the wall.
All 2014 season ticket holders will have their seats reserved for 2015 until December 31. Payment in full or a deposit is required to retain seats. Starting January 1, all seats not claimed with a payment or deposit will be made available to the general public.
All season ticket holders will get to choose their exact seats in the Richmond Coliseum. If the seats you want were occupied by a season ticket holder in 2014, you can get the closest available seats as well as a place on the waiting list in case your desired seats become available. Spots on the waiting list can be reserved with a payment, and available seats will be offered to the waiting list on a first come, first served basis.
2015 will be the Raiders' sixth season of family friendly, fast paced, high scoring indoor football in the Richmond Coliseum. Schedule information will be announced in the near future. Check RichmondRaidersProFootball.com for updates and more information on the team's offseason appearances and activities.