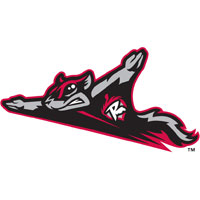 The Reading Fightin Phils (79-43) succeeded in holding off the surging Flying Squirrels (52-71) on Thursday night, avoiding the series sweep with a 6-3 win at FirstEnergy Stadium. Richmond plated a run in the ninth inning and managed to bring the tying batter to the plate but fell short in the defeat. Hunter Cole anchored the Squirrels offense with his first four hit performance of the season.
Richmond closes out the season series as the only team in the league with a winning record against Reading (7-6).
The Squirrels were unable to escape Reading with a series sweep, dropping the finale by a final of 6-3. The Phils struck first, grabbing a 2-0 lead in the second inning against Richmond starter Andrew Suarez. Dylan Cozens and Jake Fox connected on consecutive doubles for a 1-0 advantage. Catcher Gabriel Lino added another two-base hit, giving Reading a 2-0 lead. Suarez was able to strand Lino at second to limit the second inning damage to the two runs.
Richmond countered with a run to cut the lead in half in the top of the fourth inning against Reading starting pitcher Mark Leiter Jr. Leiter Jr. retired the first nine batters of the game before he encountered trouble in the fourth. Steven Duggar let off the inning with a base hit but was nullified on a line drivedouble play. Hunter Cole, Chris Shaw and Ryder Jones all followed the double play with singles to load the bases. C.J. Hinojosa then added another base hit, producing the Squirrels first run of the night. Leiter escaped further trouble and went on to pitch six solid innings to earn the win.
Suarez maneuvered through the third and fourth frames but ran into trouble in the fifth. Leiter Jr. opener the inning with a base hit and advanced to third via a double from Roman Quinn. A pair of Reading sacrifice flies extended the Phils lead, to 4-1. Suarez relinquished an additional run in his sixth and final inning. The lefty allowed five runs on ten hits and suffered the loss.
The Squirrels continued to apply pressure over the final four innings but fell short in the ninth inning. Richmond added a run in the seventh when Christian Arroyo delivered an RBI single into left field, pulling the Squirrels to within three, 5-2. After Reading tacked on a run in the bottom of the eighth inning against reliever Jose Casilla, the Squirrels pushed Reading to the limit in the ninth. Pinch-hitter Darren Ford walked and Steven Duggar was then hit by a pitch to start the ninth inning against closer Miguel Nunez. After Arroyo popped out, Hunter Cole lashed his fourth hit of the night, a single to left, scoring Ford and cutting the deficit in half, 6-3. Nunez was then replaced by Jimmy Cordero and Cordero picked up the final two outs to preserve the win and earn the save.