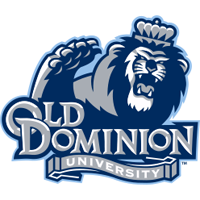 ODU football coach Bobby Wilder talks with reporters on Monday. 
Good Afternoon everybody. Good afternoon to all of our 12th Monarchs out there in Monarch Nation. Coming off a thrilling 38-35 win on homecoming, which marked our 40th consecutive sellout. We are the only team in the history of college football to sellout every home game we've ever played.
We needed our loud and proud 12th Monarchs, particularly with this fourth quarter comeback on Saturday, so a big thank you from myself and our football team. This game was clearly a back and forth game. A game we led 21-10 at halftime, and then we had a very difficult third quarter. FIU took the lead 27-21, we scored to take it 28-27, and then it came down to the fourth quarter. I felt like we played our best football of the year in the fourth quarter. Defensively we held FIU to nine yards on eight plays in the fourth quarter. Offensively, we had 125 yards on 25 plays, we had the touchdown and the field goal. Clearly in crunch time our kids really came through in this game and that had been something that had been a challenge for us this year. In our six losses, five of them came down the fourth quarter, so to win a game like this in the fourth quarter. Similar to what we had to do in the Rice game, same type of finish a field goal with no time left to win it, but just a different kicker this time with the game winning field goal. So I'm very proud of our team and how we finished. Special teams wise we were very average in this game. Obviously, the biggest play was Satchel Ziffer with the 28-yard field goal to win it, and a tremendous hold by Joe Pulisic on that. We had a low snap that Joe had to field and he did a phenomenal job with that. Our kickoff coverage was very good in this game against the best return team that we have faced so far.
We were poor on kickoff return, a couple bad decisions; we didn't field the ball properly, we didn't block well, and that hurt us in this game. Then, our punt team allowed a 27-yard return to an explosive returner, which gave them great field position. Defensively, I thought we were very good against the pass game. We only allowed 132 yards, unfortunately 57 of them came on one play that led to a touchdown. We had two missed tackles, one by our safety and the other by our corner. They got almost half of their passing yards on one play with a couple missed tackles. We had a very difficult time defending the run in this game. They had 55 carries for 256 yards and what has been a theme of this season, they controlled the line of scrimmage. Majority of the offensive lines we've played, other than Eastern Michigan, they've had success controlling the line of scrimmage. That's an area we know we need to improve on as we move forward.
On third down they were 8-14, they had a lot of success, particularly very early. We shut them out on third down in the fourth quarter. Of their eight conversions seven of them were run plays. They were third and very manageable down and distances. What I was most impressed with by our defense, is how they performed in the fourth quarter, FIU only had three drives. The first one was a three and out that got us the ball back offensively with about eight minutes to play. We didn't convert offensively. We had a fourth and eight completion to Ray Lawry for six yards, which took some of our energy away from us. Then with four minutes to go they got another three and out, got us the ball back and the offense went down and scored. Probably the defensive play of the year, the interception by Fellonte Misher with 23 seconds left, that set us up in position to kick the field goal. An excellent job by our defense in the fourth quarter. I thought our defense was very good in the first half. We only allowed 10 points and they really only had one significant drive in the first half, but the third quarter was a very poor performance defensively.
Offensively, we had great balance in this game. We had 525 yards total, 315 passing and 210 running the ball. That balance allowed us to keep them off balance defensively, allowed us to get some explosive plays down the field. I though Taylor was excellent in this game. He was 20 for 35 for 315 yards. He had two touchdowns with no interceptions. Half of his incompletions came from him throwing the ball away due to pressure or something not being open. He wasn't taking sacks or negative plays. He ran the ball well, he had 13 carries for 76 yards before you figure in the sacks (52 net yards). Four of those were third downs where he ran and got the first down.
He did a really good job overall managing the game particularly n the fourth quarter. Taylor's eight fourth quarter comeback of his career, which statistically leads all quarterbacks in the country at the FBS level. Ray Lawry had another outstanding game; 18 carries, 142 yards, two touchdowns. He did have the one fumble, which was his first fumble of the year. I was really proud of the way he came back after that fumble and not only ran the ball, but he also had a couple of good pick-ups. His blitz pick up on the fourth and three was huge and he had a couple other good ones in this game. He's gaining ground in that area of protection and protecting the quarterback which is giving us a lot more confidence to play him consistently. Antonio Vaughan, again an outstanding game.
Six catches for 140 yards and a touchdown. He had the longest reception of the year, a 74-yarder which put us up 21-7. Then the offensive line, I thought they were very good in this game. To look and see 210 yards rushing, that's impressive particularly for a team like us that primarily throws the ball. Those guys were very solid up front and everything that they did. Those two drives in the fourth quarter; the nine play, 65-yard drive to tie it. Then the way our offense handles the situation where there was 23 seconds left to get the completion to David Washington, a huge completion to Zach Pascal for 24-yards. Then a play we practice a lot is Taylor taking the snap and centering it. We called the timeout with four seconds left to set up the field goal. Those guys really handled themselves well in crunch time. I told the team Sunday after this game that the goal we had set initially at the start of the year is still there for us. The ability to try to become bowl eligible, to try to get to six wins and put ourselves in the position to at least get consideration.
That's obviously going to be challenging with these two games we have left. Louisiana Tech is a 7-3 team, they are 6-0 in the league, and they're the number one team in Conference USA West. So it won't be without a challenge particularly this next game in front of us that we're focused on, but those goals are still there. In terms of the bye week, we will take a different approach this week. We'll practice this week on Wednesday and Friday.Wednesday we will focus on our team and getting better, we will introduce LA Tech, then Friday we're going to have what we're calling a futures game. What I mean by that is we will go over to the stadium on Friday, we will put the kids who generally don't get to play, primarily the redshirted players, in full uniform and give them a chance to play some tackle football.
When I announced that yesterday there was a lot of excitement in the room. They practice all week, they lift weights, they do everything else with the team but they don't get to dress and get in the ballgame. When we have a roster of 110 like we do now, there's about 40-50 kids that are consistently playing the game, that gives everybody else an opportunity. So we'll do that on Friday morning and I'm very excited about that.
Q: When you went back and looked at the video, was there anything that stood out to you that you maybe did not notice on the sidelines in the heat of the moment, in the heat of the game, just at any point in the game?
A: Yeah, there was a sequence of big plays, just crucial plays that were made by our kids in the fourth quarter. On their next to last drive, when they ran the screen pass, Chris Smith, our nose guard, recognized the play and made the tackle to keep them from getting the first down. We had been applying a lot of pressure on the punt and their last punt went 28 yards so we started on our 35. This kid had been averaging 45 yards per punt where we would have to go 80 or 85 yards, so that was big. The pressure that we had put on that forced a bad punt, the third and 14 completion on the game tying drive from Heinicke to Nick England, that was Nick England's first catch of the game. Then the fourth and three offensively, that was just a great call by Brian Scott. What we did was we lined up three receivers to the right, Zach Pascal to the boundary and Gerard Johnson was offset to Taylor's left in the backfield. We knew that they were going to blitz, Brian knew a blitz was coming, and we ran Pascal on a quick shallow route, the linebackers blitz, the corner went with him and the defensive end rushed. The defensive end was supposed to go with him but blitzed and that left Gerard Johnson wide open. That was a play that we had been looking to get the right time to run that play and that was probably the call of the game and then for Gerard to make the catch that he did on that play, that ended up saving the game, the game's over if we don't complete that one. And then obviously on the next drive the defense making the play on the draw. Misher's interception like I said was probably the play of the year and then Pascal, that 24 yard catch it was right on the sideline and to not only make the catch but to have the were-with-all to get his feet inbounds, that took that from a 48 yard field goal to now we could put it at the 28 yard field goal. So there was just one big play after another in the fourth quarter and it seemed like to me, and I am a little biased, but it seemed like our kids made every big play in the fourth quarter. With the plays we made on offensively, defensively, Satchel Ziffer, when the game was tied, he had a great kick, he pinned them down in the deep right corner and our guys covered it. Like I said they have the best return team we have played, tackled it on the 25, so everybody contributed, the special teams, the defense, the offense and for that to happen particularly in the fourth quarter, cause that hadn't happened since Rice, we hadn't had a fourth quarter performance where everybody stepped up in crunch-time like they did and that ended up being the story of the game.
Q: What is the difference going into the bye week coming off a win as opposed to coming off a loss?
A: The biggest thing is the attitude of the players. I tried to get them after the game and then again on Sunday, to get past the point of relief of the losing streak, to just the pure joy of winning. What I mean by that is, at the end of the day they are still 18 to 22 years old. They are still college kids; they should enjoy winning as opposed to the pressure of losing and how you react to it. I always want them to react to a win with pure joy and excitement and they should. They should react that way because they are kids. So just getting them past that, it shouldn't be relief it should be joy and I am hoping they got that message.
Q: Bobby as the year has gone along, Antonio Vaughan seems to have gotten better. He's catching a lot more passes for a lot more yards these last three or four games. Can you talk a little more about what he has meant to your program and is he getting much of a look from the NFL scouts?
A: He's receiving tremendous recognition right now. He was just added to the Biletnikoff Award Watch List, which is the top receiver in the country at the FBS level. He is, the last time I checked it and we can verify this, I think he is at least 200 yards ahead of the nearest receiver in Conference USA in receiving yards and we should probably check the national stats. He is on his way to a 1,000+ receiving year and I think he is what the top two or three in the country, second in the nation in touchdown catches. The impact that he as had for us is just incredible. The players look to him as the big play guy and what is happening now when we are having success running the ball, we are starting to get one on one match-ups down field for Antonio. That's what happened on that 74-yard touchdown. It was off of a play action and he ran a post route and it was just him and the safety that was there. So that is starting to happen now with the success of the run game. And then to answer your question about the NFL, when the season started they were aware of him but there was a lot of we have got to wait and see. But now there is genuine interest. All 32 teams have been through primarily looking at Taylor, are now focused on Antonio as well, and not just because of what he is doing as a receiver but how he is a multi-dimensional player. He can catch the ball, he can run the ball and he is a skilled returner. So the interest in him has increased based on his productivity.
Q: Given your challenge in depth at wide receiver at the beginning of the season, how important was it that he step-up?
A: Yeah, we needed Antonio Vaughan to do what he is doing and Zach Pascal, is the other one who is quietly having a tremendous year. I think he is in the top four in the league in catches; he is up there in receiving yards. They are both playing like all-conference players right now, but we needed Antonio to do what he is doing right now and that is taking some of the pressure off some of the other younger players that we have. Melvin Vaughn, he is a true sophomore, he played sparingly last year, now he has stepped up into a good role. Nick England is a transfer so this is his first year playing with us. And then we have Marques Little, Jonathan Duhart, and Vincent Lowe, these are true freshman that are playing at this point, so for Taylor to have that comfort level with Antonio is definitely helping us.