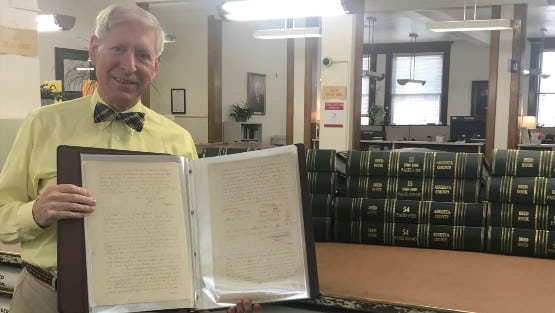 A Circuit Court Records Preservation grant made it possible for eight historic records books to be restored for the Augusta County Clerk of the Circuit Court's Office.
The office received the restored historic books bag this week after restoration in the amount of a $47,687 grant. Included in the documents are deed books dating to from 1761 to 1878.
"The Augusta County Circuit Court Clerk's Office is excited to receive back these eight important Colonial and 19th Century will book and deed books and we are glad they will now be available for the public to inspect, and to see them online," Clerk of the Circuit Court R. Steven Landes said. "These important land records will allow future generations of Augusta County citizens to see these tangible pieces of history."
The Circuit Court Records Preservation Grants Review Board approved the grant request at its January 6, 2023 meeting. The grant was approved by the Library of Virginia (LVA) and also allowed the Clerk's Office to obtain digital images of the records, ensuring future public access to the documents.
The Clerk's Office has applied for the grants since 1994, and received a total of $122,536 in grant funding during Landes' tenure. In downtown Staunton, the Clerk is the steward of historic records dating back to 1745. Clerk's Offices throughout the Commonwealth of Virginia possess a wealth of historic records. The historic records require constant protection and preservation work to ensure these artifacts remain in existence for future generations.
The special grants preservation program was created by the Virginia General Assembly and allows clerks to use state grant funding to perform preservation and conservation work to restore and protect Virginia's valuable history.
The Augusta County Circuit Court Clerk's Office serves as the recorder of deeds and probate judge, issues marriage licenses and is the official court administrator for all civil and criminal cases. The Clerk creates and maintains all court files and records, prepares court orders and jury lists, contacts jurors and issues summons and court processes.