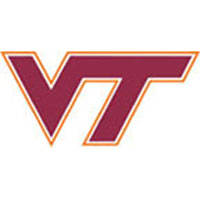 The date has been circled on the calendars of Virginia Tech football fans since it was announced. Sept. 6, 2014, Virginia Tech at Ohio State. Turns out the date is looming large on the minds of Hokie players, too.
"We can't overlook William and Mary. We've been bitten by a !-AA team before, so we're definitely not going to do that. But I'd by lying to you if I said when I go to sleep at night that I'm not thinking about Ohio State, what it's going to be like to play in front of 100,000-plus," senior wide receiver Willie Byrn told reporters at the 2014 ACC Football Kickoff in Greensboro, N.C., last week.
Tech will have to guard against looking past its opener with William and Mary, which is expected to contend for a playoff spot in FCS, toward the projected FBS Top 10 Buckeyes, who are 24-2 in the past two seasons and aiming toward national-title contention in 2014.
"Everybody knows them. They're a great team. The players and coaches know them. I even watch a little extra video of them when I can," senior defensive tackle Luther Maddy said. "I still watch William and Mary first, but I want to be ready for Ohio State, because they're a great team, great offense. Braxton Miller is a great player. You've got to keep him contained in the pocket. I think we're going to pull out that game, get the win."
A win for Virginia Tech would be huge for a program that is coming off a couple of down years, but has high hopes that it can get back into the ACC and national title picture in 2014.
"From a team level, we would love to have one of those marquee wins that we need to break our persona of busting in those big games," Byrn said. "We're very excited for that. And if we win the William and Mary game, and are able to come out of ohio state with a victory, that could really give us some momentum going into a wide-open ACC, and from there it could go on. Those are the kinds of thoughts that you have going in."
– Column by Chris Graham