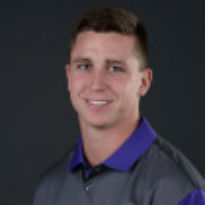 UVA head coach Bronco Mendenhall announced today (May 16), former East Carolina quarterback Kurt Benkert (Cape Coral, Fla.) has transferred to Virginia for his final two years of eligibility. Benkert has signed financial aid paperwork and will enroll at UVA in June as a graduate student.
Benkert (pronounced Ben-kurt) missed the 2015 season due to a knee injury he suffered during fall camp on Aug. 25. He participated in East Carolina's spring football practices under new head coach Scottie Montgomery, but opted to complete his undergraduate degree in business administration and transfer.
Benkert appeared in three games during the 2014 season. He saw playing time against North Carolina Central, North Carolina and Florida as a reserve. He completed eight-of-10 passes for 58 yards and rushed five times for 23 yards. He has two rushing touchdowns and led three scoring drives in five overall (complete) series for the Pirates. He redshirted the 2013 season.
A native of Baltimore, Benkert moved to Florida before entering the third grade and remained there until the start of eighth grade before moving back to Maryland. He moved back to Florida during for his final two years of high school and topped all southwest Florida quarterbacks in passing yards with 2,261 as a senior at Island Coast High School.
He completed 147-of-236 passes (62.3 percent), which included 20 touchdown tosses and just four interceptions, to help the Gators to an 8-3 overall record and 5-1 6A District 11 mark (co-champions with South Fort Myers). On the ground, he rushed for 300 yards on 80 carries. Benkert earned third-team 6A all-state honors from theAssociated Press while also picking up first-team all-area recognition from the Fort Myers News-Press. As a junior, he played at Cape Coral High School where he helped lead them to a 7-5 record, completing 189-of-367 passes for 2,771 yards, 25 TDs and seven interceptions.