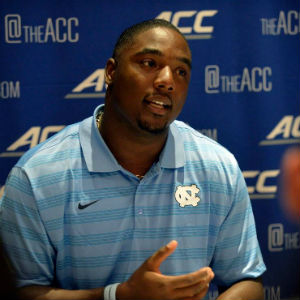 Q. You guys have had six consecutive winning seasons but haven't won more than eight games in a year since 1997. What's going to be the biggest factor this year in determining whether you guys have another good year or a special season?
MARQUISE WILLIAMS: We're going to come out and compete. We've been really impressed with this summer. Coaches are really glad with what we've brought to the table this summer and guys are buying into what Coach Fedora is trying to do. That's the only thing we need, we need everybody to stay on one train and not 10 guys and one guy is off by himself. We're going to come together as one unit and compete at the highest state and play Carolina football: Smart, fast and physical.
Q. First part of my question is how much did the experience of you playing last year help with you moving in as kind of the man this year, and how much do you like that college football now has a playoff?
MARQUISE WILLIAMS: Oh, I love it because, I mean, it gave me a lot of confidence. After winning the Belk Bowl in Charlotte in my hometown it gave me a lot of confidence and a lot of guys on the team confidence. Coming off a winning record and a winning bowl game, that gives you the next step in taking it to the next season, and we're ready for that, and we're going to do our best and come to compete at the highest task this year and do whatever it takes. As for me, it helps me out a lot. I'm playing with a chip on my shoulder. I feel like I have to go out and earn something that I deserve, and I'm just going to go out and compete at the same time.
Q. How much do you enjoy the college football now has a playoff and there are four teams left at the end of the year?
MARQUISE WILLIAMS: I think that's very, very incredible because it gives other teams that never had the opportunity to play to play for a college championship, the opportunity to play for one. Like I think back to NIU when they played a couple years ago in the Orange Bowl, certain teams get left out, and I think it's very impressive to have the playoff, and it's going to be very exciting to see how it goes this year.
Q. Running back numbers at North Carolina with the exception of Gio a couple years ago have been pretty anemic. The running game improved last year when you took over at quarterback. Why is that and how important is the continued improvement of the running game for North Carolina's success this year?
MARQUISE WILLIAMS: Those guys knew we had to get it together at the front four to establish what we needed to do, and when those guys told me the trainer is going to keep moving and you have to come on and be ready to go, and I was ready to go, I gave them that extra wheel in the backfield. Also with our running backs, I just gave them a little extra more because I can also run the ball, too. With those big guys in front of me, I was just ready to go behind them and I knew that I wasn't going to be touched with those big hosses I have.
Q. What is it going to be like having Elijah Hood and TJ Logan behind you in the backfield?
MARQUISE WILLIAMS: It's incredible, man. We have four good backs, but Elijah Hood, if you haven't heard, this guy squatted 605 as a freshman on Friday. I've seen offensive linemen doing that, but he's a running back squatting 605? I've never seen that a day in my life. But TJ Logan is a guy that can cut the backfield up and do anything he wants. He has like seven gears. It's like a Mustang with a neon speed and everything like that. It's going to be great to see what those guys bring to the table and I'm glad to have a backfield like that because I'm pretty sure we're going to need four footballs in the backfield to try to figure out all those guys.
Q. What are you most excited about?
MARQUISE WILLIAMS: I'm excited to get the season started. I'm excited to get the ball to the playmakers that we have like Ryan Switzer. That's my little — I call my jitter bug because he's like a little jitter bug and he's always nagging people and he's all across the field. Those guys work their tail off just to be impressive this year and try to play Carolina football. We're ready for the big thing to turn it around and every time you think of Carolina, you think of basketball, you don't think of football, and we're trying to change the program around as Carolina as a basketball and a Carolina football school.
Q. You talked about the playmakers that you have on this offense. How do you define the offense moving forward for you and your expectations of yourself and of them?
MARQUISE WILLIAMS: Well, as a quarterback we talk about it all the time. You don't have to be too flashy. You just distribute the football to the playmakers and let them do the rest. Those guys want to make plays, like Ryan Switzer, Quinshad Davis, TJ Thorpe, Jack Tabb. Just put the ball in those guys' hands and they're going to do the rest for us and as the quarterback, you don't have to be too flashy, just get them the ball.