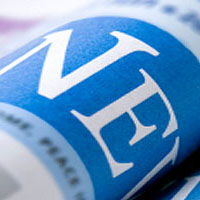 As part of its ongoing strategic transformation, the News Leader is placing its property at 11 North Central Avenue in Staunton for sale and has begun exploring real estate options that better meets its future business needs.
"I am excited about the opportunity this presents for us as we continue positioning ourselves for an increasingly digital and mobile world," President and Publisher Roger Watson said. "The current News Leader facility has 23,000 square feet, while only 7,000 to 8,000 square feet are needed for operations. Printing operations were moved to neighboring Harrisonburg in 2009.
"We are planning to move to a new facility or remain in the current facility with a partner to help make better use of the space. With either option, we are committed to remaining in Staunton. We will continue to pursue great journalism, deliver strong advertising solutions and work for the greater good of our community."
The three main buildings that make up the News Leader were built in 1905 and are part of Staunton's historic district. A warehouse and dock facility was added in 1995. The property also has an entrance off of North Augusta Street that includes 12 parking spaces. The newspaper began in a building across the street in 1904 before moving to its current location.
There is no timetable for the sale. Max Hirtriter of Better Homes and Garden Real Estate III (540-885-3339) is the local Realtor handling the listing.