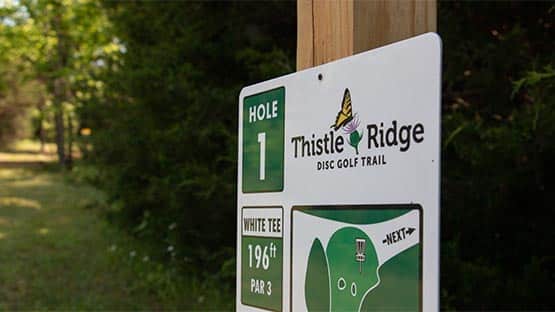 A new 18-hole disc golf course offering extensive views of the Blue Ridge Mountains is open to players of all skill levels.
Natural Bridge State Park's new Thistle Ridge Disc Golf Trail offers environmentally friendly tee pads and scorecards that double as field guides.
"Any time we can do something that causes people to unplug and enjoy nature, maybe even gain a better appreciation for the world around them, we've left our mark on the next generation," said Park Manager Jim Jones.
Years ago, the landowners cleared the area known as Thistle Ridge to build a golf course but abandoned their plans. Today, the whole course is an example of secondary forest succession, and educational signs will be placed throughout the trail to help visitors understand how a forest comes back to life.
The tee pads consist of 100,000 crushed glass bottles and a managed pollinator habitat. Additionally, the Blue Ridge Parkway Foundation's Kids in Parks program designed the scorecards with identification information for some of the more common bird and tree species that can be found along the course.
Thistle Ridge Disc Golf Trail was made possible by donations from the Rockbridge Area Community Health Foundation, Washington and Lee University, The Friends of Natural Bridge State Park, Rockbridge Outdoors and the Rockbridge Disc Golf Club.
The course is also joining the Kids in Parks program's network of nature trail disc golf courses which include more than 30 other courses in the country.
The course is located north of the Natural Bridge Visitors Center at the Blue Ridge Trailhead in Natural Bridge. State Park parking rates apply.
For more information on Natural Bridge State Park, click here.
Related stories
Charlottesville: New Pen Park nature trail crosses Meadowcreek Golf Course
Lifelong fitness at an early age: Waynesboro students learn tennis, golf, swimming
FlingGolf mania coming to the Valley with open tournament planned in Harrisonburg, McGaheysville 
Our Virginia Outdoors coalition to work to promote natural beauty in state
'Continued appetite for the outdoors': Boating industry sees economic boom
Youth fishing programs would eliminate social and financial barriers to get outdoors