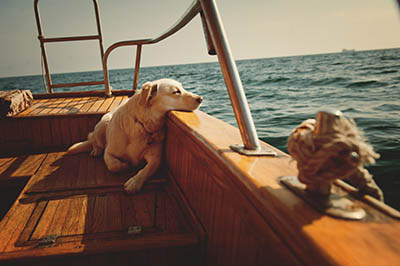 As Americans prioritize outside activities, mental health and time with family and friends post-pandemic, it should be no surprise that recreational boating is on the rise.
The National Marine Manufacturers Association said boating saw a 36 percent increase in annual economic impact from 2018's $170 billion to $230 billion in 2023. There has also been a 14 percent jump in marine-related jobs – from 691,000 in 2018 to 812,000 in 2023.
The industry's momentum is expected to hold steady in 2023 with sales of new and pre-owned boats on par with 2022 as Americans remain focused on outdoor experiences.
"Recreational boating and fishing are a major economic engine in the U.S. and the latest economic analysis underscores the extraordinary growth and demand our industry has experienced coming out of the pandemic," said Frank Hugelmeyer, NMMA president. "The profound impact the past few years have had on our industry cannot be denied as we've seen Americans seek out boating and fishing in record numbers, driving significant economic output and supporting tens of thousands of small businesses and nearly a million jobs."
The U.S. recreational boating industry sold more than 260,000 new powerboats and more than one million pre-owned boats in 2022, ranging from small aluminum and fiberglass fishing boats to pontoons and family cruising and watersports boats.
"With summer on the horizon, we're anticipating healthy boating participation with more than 85 million people estimated to take to the water in the U.S. amid Americans' continued appetite for the outdoors and unique experiences," said Hugelmeyer. "With healthy boating participation comes continued economic activity across the recreational boating eco-system, from marinas and harbors to hospitality and tourism and manufacturing and service- lifting up vital small businesses and jobs and the local communities they support."
The 2023 NMMA-produced economic impact study was conducted with economic research firm John Dunham and Associates and includes all marine companies and businesses related to the manufacture, rental, sale, distribution, maintenance, financing, insurance, repair, and storage of recreational boats, marine engines and marine accessories in the United States.