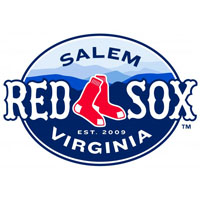 The Myrtle Beach Pelicans beat the Salem Red Sox 5-2 tonight at TicketReturn.com Field. Luis Parra picked up his fifth victory of the season for the Pelicans, tossing seven and one third, allowing two runs on four hits. Simon Mercedes was the tough luck loser for the Sox. Mercedes threw his second straight quality start, allowing just an earned run and three hits in six innings.
The Pelicans picked up an unearned run in the first inning to get out to a 1-0 lead. Mercedes let a ball slip under his glove hit by Chris Garia and the first batter of the game was on first on an error. Then Mercedes threw wild on a pick off to first base, and Garia was on second. Garia was driven home by a single by Jorge Alfaro. It was already Alfaro's fifth RBI of the series. Later, the Pelicans would go ahead 2-0 on a solo home run in the fifth by Hanser Alberto.
The game would remain 2-0 until the seventh inning, when the Pelicans broke through off Sox reliever Kyle Stroop. Christopher Bostick led off with a walk and reached second on a balk by Stroop. Preston Beck then singled home Bostick to make it 3-0. Later in the frame, Alberto would reach on a fielders choice, followed by another walk, this one to David Lyon. Zach Cone then doubled in both runners and it was 5-0 Myrtle Beach. The Pelicans had a chance at another run, but Matty Johnson threw out Cone at the plate to keep the score 5-0.
Salem was held scoreless through seven. Luis Parra came out for the eight and allowed Matty Johnson to double to lead off the inning. Then with one out, Jonathan Roof launched a two-run homer to left on the last pitch Parra would throw. The homer made it 5-2, but that's as close as it would get. Abel De Los Santos came in and picked up a five out save.
Salem now stands 7.5 games behind Myrtle Beach in the South division with just 18 games left in the first half. The Sox and Pelicans will play the final game of this series tomorrow at TicketReturn.com Field. William Cuevas goes for the Red Sox, and Sam Wolff gets the ball for the Pelicans. First pitch is at 7:05.