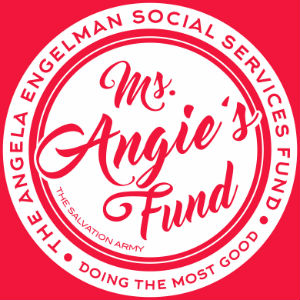 Angie Engleman – Ms. Angie to so many in Waynesboro and Augusta County – is retiring, sorta, kinda, from The Salvation Army after 33 years.
You have to add the qualifiers sorta, kinda to the reporting that Engleman is retiring because when you talk to her about her pending retirement, you come to realize that she still plans to be around as much when she's retired as she is now when she isn't.
"I'll still be volunteering," said Engleman, who has been a case manager at The Salvation Army in Waynesboro since 1983.
And when she starts down the list of things that she'll be doing as a volunteer, well, it sounds a lot like what she has been doing for more than three decades.
The main difference will be that she'll be able to spend more time on helping people and less time on paperwork, and other necessary, but time-consuming, processes.
The bottom line: Engleman will be able to do what she does best … love people.
Engleman will also lend her name to a new annual fund drive being dedicated in her name that will launch in August.
Ms. Angie's Fund is a retirement gift to Engleman from the local advisory board, which struggled to find a way to honor Engleman for her years of service.
"She's not the type of person that you'd just buy her a ring or give her a nice plaque and say thank you. Angie deserved something more than that," said Teresa Gauldin, the CEO of Mathers Construction, and the chair of the advisory board.
"We were trying to come up with something that we could do to honor Angie, and we couldn't think of anything that really meant anything, until we came up with the Ms. Angie's Fund. Because Angie is social services here. And the need here in the summer is just as great as the need in the winter," Gauldin said.
You are no doubt well-aware of the red kettles at Christmas and how donating loose change and small bills helps The Salvation Army provide for individuals in need over the holidays.
"But the need is year-round," Gauldin said, "and what better way to honor Angie than to come up with a way to raise funds to support what she loved and how she served? That's how we came up with Ms. Angie's Fund, and we hope people see this as something that they can trust and give to every year."
Engleman has been the point person for people in need in Waynesboro and Augusta County for what seems like forever. She is the living embodiment of institutional knowledge of where to go to find resources to help people who have otherwise run out of options when their utilities are about to be cut off or they're about to be evicted.
"When my mother was in charge of the benevolent fund at our church, she told me that if Angie from The Salvation Army called with a request, then she always gave her money.  She said that she trusted Angie and felt that when she worked with her then the money was being spent wisely," Gauldin said.
"Years later when I joined the board I got to know Angie and understand why my mother placed her trust in Angie. Angie is a hardworking, compassionate woman who has served this community well. Waynesboro is a better place because of her," Gauldin said.
Engleman shrugs off that kind of praise, saying she's "just doing my job," and noting that her daily mission is to "provide help as best we can."
"I know that this community cares about people, and they want to help us help people," Engleman said.
"They help us help those in need, and it's been that kind of relationship over the past 33 years. We're so blessed in this community to have that spirit."