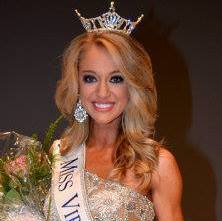 The reigning Miss State Fair of Virginia, Courtney Garrett, was crowned Miss Virginia 2014 June 28 at the Roanoke Civic Center.
The Prince Edward County native was awarded a $17,500 scholarship and will represent the state in the Miss America Pageant in Atlantic City, N.J., on Sept. 14.
Garrett is a recent graduate of Liberty University, where she earned bachelor's degrees in communications and vocal performance. She is pursuing a master's degree in business administration at Liberty.
Garrett also won the June 27 Preliminary Swimsuit Award and the Miss Virginia Quality of Life Award, which recognizes the contestant who has best created, developed or participated in a community service project.
Garrett's community service platform is "Defying Disabilities;" she focuses on learning to accept people struggling with a disability in honor of her brother, who has cerebral palsy, autism and epilepsy. She has volunteered for Area 12 Special Olympics Virginia as a personal assistant for her brother and as a coach for his team.
"Long before I got into pageants, I was convinced I would be advocating for the rights and respect of people with disabilities," Garrett said.
Last September Garrett was crowned Miss State Fair of Virginia in a scholarship pageant that was reintroduced at the fair in 2013. She previously held the titles of Miss Arlington and Miss Lynchburg.
This year's State Fair of Virginia will open Sept. 26 and run through Oct. 5. Information is available atStateFairVa.org.
The State Fair is held each fall at its permanent home at The Meadow Event Park in Caroline County. The fair's mission is to increase agricultural and natural resource awareness and interest through educational programs, exhibitions and competitions in a fun, family-friendly setting.