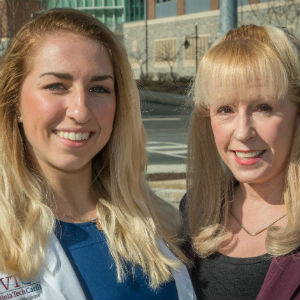 When Lindsay Maguire was in kindergarten, her "What do you want to be when you grow up?" picture was of herself in a white coat giving a lollipop to a child and saying, "All better."
She was, of course, pretending to be her pediatrician, whom she adored.  While the medical specialty changed over the years, the desire to be a doctor never did. Today, this third-year student at the Virginia Tech Carilion School of Medicine is fulfilling her dream and touching more than a few lives while she's at it.
Maguire, a native of New Kent County, Virginia, just east of Richmond, is no stranger to hard work. While an undergraduate at The College of William and Mary, she worked four part-time jobs to cover her expenses.  She graduated with honors with a degree in neuroscience in 2015 and applied to all of Virginia's medical schools.
"I didn't know anything about VTC," she said. "I had no idea what I was getting into. I had never even been to Roanoke."
But all that changed when she was offered a chance to interview. The school uses a nontraditional interview process in which candidates circulate through 10 mini interviews, each one focused on responding to a scenario instead of a traditional question-and-answer interview. The interviewee reads the given scenario only moments before entering the room. Many applicants find the process a bit taxing on their nerves, but not Maguire.
"I thought, 'I have no idea what to expect, so there's no use getting myself all worked up. I'm just going to be myself.' By the end of the day, I knew I wanted to come here."
Her strategy paid off, and in July 2016, she joined 41 others who comprise the school's class of 2019. The class started on their first problem-based learning (PBL) case during the week of orientation. Much of the school's curriculum is based on small-group learning, where student teams teach themselves, with help from a trained facilitator, using real patient cases. Maguire found the method both powerful and stimulating, and she earned two Letters of Distinction for her PBL participation and performance.
"The interactivity of PBL is the reason I thrived with that way of learning," she said. "I learn by talking through problems."
The zenith for her was each Friday when the students gathered for a wrap-up with the patient they had studied all week, along with their doctor and family members.
"The first wrap-ups I attended left me awestruck. I thought, 'Wow. This is amazing. I get to spend time with actual patients and ask clinical questions of their doctors.'" The Virginia Tech Carilion School of Medicine is one of only a few schools that incorporate regular wrap-ups as part of their curriculum.
Maguire thrives when she stays busy. Ask her what she does besides medical school, and the question really should be what doesn't she do? She's a representative on the school's Wellness Advocacy Committee. She's a tutor and coach of the school's softball team. She's a competitive powerlifter; she plays recreational volleyball; she's a volunteer at the Bradley Free Clinic and Angels of Assisi. And in her spare time she flips houses.
Maguire's research during her time in medical school has been in biomechanics under the mentorship of Robin Queen, associate professor and director of the Granata Biomechanics Lab in the College of Engineering at Virginia Tech.
Maguire is conducting research on the evaluation of tools to assess athletes' readiness to return to sport after undergoing an anterior cruciate ligament repair. For comparison, she's also looking at normal movement and load symmetry in healthy recreational athletes.
"I rarely say I can't take on another thing," she said. "It's all about time management."
That's a skill she credits her mother, Rebecca, with instilling in her.
"I have my mom to thank for so much," she said. "We're very close. She's amazing."
Maguire was one of two students this year who were awarded the Daniel and Katina Carusillo VTC School of Medicine Scholarship, an annual award going to deserving students demonstrating a financial need. She plans to use it to help offset living expenses while she's in school and is appreciative of all of the school's donor gifts, especially those that go directly to students.
"It's the mental and emotional, in addition to the financial, support that getting a scholarship provides," she said. "It reinforces that I'm supposed to be here, that someone thinks I'm worthy."
Looking ahead a few years, Maguire believes a career as a doctor is where she can do the most good.
"Medicine is the only thing that is both intellectually stimulating and allows me to help people immediately. Plus, I believe I can help advance a growing field. If I can leave the world a little bit better than I came in with, that's all I ask."