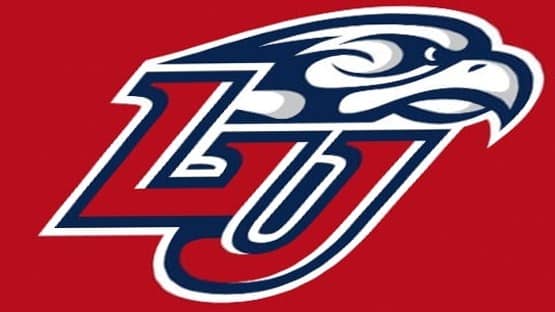 Kyle Rode scored 31 points, and a 19-2 second-half Liberty run provided the working margin for the Flames in an 83-66 win over Wichita State in the Myrtle Beach Invitational semifinals Friday night at the HTC Center.
Liberty (4-0) will play for the tournament title on Sunday evening against Vermont (4-0). Tip time is 5:30 p.m., and the game can be seen on ESPN2.
The Catamounts topped Saint Louis in the other semifinal on Friday afternoon.
Rode's career-high 31 came on 9-of-16 shooting from the floor and 7-of-12 shooting from three.
Colin Porter had 13 points, and Kaden Matheny had 12 points, six rebounds and four assists for Liberty, which defeated Furman in the opening round on Thursday.
Xavier Bell had 24 points and nine rebounds for Wichita State (4-1), which was picked eighth in the preseason AAC rankings.
The Flames had led 54-42 early in the second half before a 10-0 Shockers run made it a two-point game, 54-52, with 10:40 left. Liberty's 19-2 run was in a span of only 4:11 and started with a Metheny three-pointer that bounced around the rim and in for a 57-52 lead.
A three-point play by Shiloh Robinson at the 8:19 mark widened the lead to eight, 60-52, and a Brody Peebles jumper 55 seconds later pushed the lead to 10 (62-52).
Moments later, Rode buried a three to establish a new career high of 25 points at the time for a 13-point Liberty lead, 65-52 at the 6:53 mark.
Rode (5:43 mark) and Peebles (5:07 mark) hit back-to-back triples to close out the run and make it a 73-54 lead.
"I'm really proud of this group because I think Wichita State will win a ton of games. It was a really hard-fought battle and nice atmosphere. It was really highly competitive," Liberty coach Ritchie McKay said.
"I think it's a privilege to be invited to one of the ESPN Events, especially when you have the quality of opponents that reside in this bracket, and none better than Vermont. I love the way their team plays, and I love the way our team plays. To get a crack at Furman, Wichita State and Vermont, that's only going to help us down the road, and we'll see how we go," McKay said.