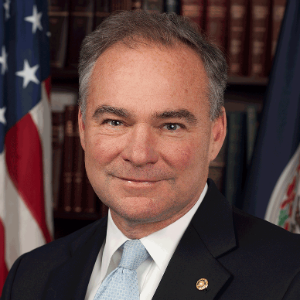 U.S. Senator Tim Kaine (D-VA) joined a group of bipartisan senators on the Senate Armed Services Committee (SASC) in a letter to President Trump to urge the completion and announcement of our nation's cyber defense strategy.
For years, Kaine has called for a clear cyber doctrine to ensure the United States has a strategy in place to defend and respond to cyber-attacks. Kaine has also championed legislation to help prepare students for cybersecurity careers that are necessary to defend the nation and its economy. Key provisions of his legislation passed into law last year as part of the annual defense bill.
"The lack of decisive and clearly articulated consequences to cyber-attacks against our country has served as an open invitation to foreign adversaries and malicious cyber actors to continue attacking the United States," the Senators wrote.
In congressional hearings over the course of several years, numerous government officials across party lines from the Department of Homeland Security, the Department of Defense, the State Department, and the National Security Agency each point to the White House when answering which government entity is in charge of formulating the nation's cyber doctrine.  To date, despite a rapid increase in cyber activity by both nation-states and non-state actors – and although a cyber-deterrence strategy has been required by the FY 2018 National Defense Authorization Act and multiple other public laws – no cyber deterrence strategy has been announced.
"Much like our nuclear deterrent, a strong cyber doctrine by the United States government would serve as a deterrent, which is not only necessary, but critical to our nation's survival in the digital age," continued the Senators. "Our adversaries need to understand the boundaries of what is acceptable in the cyber domain, as well as the circumstances under which we would utilize offensive capabilities to retaliate against cyber-attacks."
The Senators called for an immediate update on the status of the United States government's cyber deterrence strategy, including a timeline of its progress and an anticipated timeline for completion.
In addition to Kaine, the letter was signed by Senators Martin Heinrich (D-NM), Mike Rounds (R-SD), Angus King (I-ME), Lindsey Graham (R-SC), Jeanne Shaheen (D-NH), Dan Sullivan (R-AK), Richard Blumenthal (D-CT), Tim Scott (R-SC), Kirsten Gillibrand (D-NY), Ben Sasse (R-NE), Gary Peters (D-MI), Elizabeth Warren (D-MA) and Mazie Hirono (D-HI).
A copy of letter is available here.