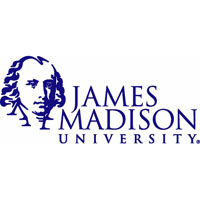 James Madison University's Duke Hall is now complete after a $42.9 million renovation that nearly doubled its size. The 115,000-square-foot facility houses the School of Art, Design and Art History, as well as the Sawhill Gallery, a professional gallery featuring changing exhibitions of regional, national and international significance.
The new Duke Hall features open and well-lit studios, dedicated critique spaces, high-tech seminar rooms, classrooms, lecture halls, state-of-the-art equipment, and classically designed furniture that honors the modernist roots of the building, according to Bill Wightman, director of the School of Art, Design and Art History.
Four areas within the School are holding classes in Duke Hall this semester: art history, art education, fibers and sculpture. The woodshop is also open to students.
•       The art history area features two first- and second-story amphitheater-style lecture halls, and additional classrooms and seminar spaces.
•       The art education area is a 3,000-square-foot space featuring a computer lab, high-tech classroom/seminar rooms and a resource room to support JMU's pre-service teachers and art education teachers across the state.
•       The fibers area is a 3,400-square-foot space featuring a loom lab, a knitting/sewing lab and a space devoted to producing dyes for a wide variety of materials. (JMU is one of only a few schools in North America to have a TC-2 Jacquard Loom and a large format, digital textile printer.)
•       The sculpture area is a 5,300-square-foot space featuring a welding lab, a digital lab, a plaster lab, as well as a general lab.
•       The woodshop area is a 2,400-square-foot space featuring state-of-the-art equipment, including wood lathes and a dovetail mortiser. This area supports programs that integrate woodworking, including sculpture, painting and drawing, design, and studio art foundations.
The school's visual resources area is located on the first floor of the west wing and is outfitted with a main lab, scanning stations and designated spaces for collaboration.
The program areas of ceramics, printmaking, metals and jewelry, as well as studios for painting and drawing, and 2D and 3D foundations will move to Duke Hall in the summer of 2014; these areas will all offer classes beginning in the fall.
•       The ceramics area is a 3,600-square-foot space outfitted with throwing wheels, kilns, a dedicated glazing studio, as well as a dedicated plaster lab.
•       The printmaking area is a 3,100-square-foot space for printmaking processes such as relief, intaglio, monotype, silk screening and lithography.
•       The metals and \jewelry area is a 3,100-square-foot space equipped with advanced jewelry making equipment such as laser welders and an induction casting machine; it also contains dedicated labs for pickling and anodization, as well as hammering and shaping (smithy).
•       The painting and drawing studios are rich with light and feature ventilated storage racks and
moveable walls.
•       The 2D and 3D foundations classrooms feature open spaces, a dedicated lab for plasterwork (3D),
great work surfaces, as well as ample room for storage.
Sawhill Gallery will also open in Fall 2014. Perfect for high quality exhibitions, the 3000-square-foot gallery features state of the art LED lighting, movable walls for increased hanging space, as well as specialized work areas for interns.
Much of the building's redesign has been based on meeting or exceeding established health and safety requirements. The goal of meeting Silver LEED Status is inherent in the building's design. Duke Hall features the highest quality of A/V equipment on the JMU campus.