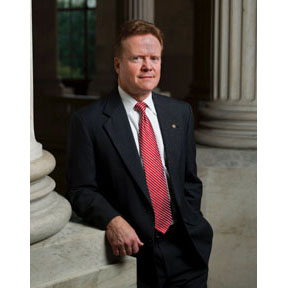 The last place that Jim Webb seemed to want to be was there. There, this particular afternoon, was Court Square Theater, toward the end of his 2006 Senate race against once-indomitable Republican incumbent George Allen.
If you think Ed Gillespie is a political hero for his close loss to Mark Warner earlier this month, you've forgotten the uphill battle that Webb faced going against Allen eight years ago. Not only was Allen the heavy, heavy favorite heading into the fall, he had TV crews following him around assuming that after his expected easy re-election he would be announcing for president.
A macaca moment later, and Allen had opened the door for Webb, who nonetheless seemed out of place with the retail politicking part of politicking.
The campaign event in Downtown Harrisonburg was just another illustration of that point. Webb was perfectly content to let Warner, then just a few months out of the governor's office, looking at that moment at making a presidential run in 2008, press the flesh and then get the troops riled up on the microphone.
Webb was the second banana at his own event, a distant second, and after his surprise win, it was clear from the get-go that as good as he was at the senator part of being a senator, he wasn't long for Washington because of his distaste for the schmaltz, the kissing babies, the constant fundraising, the nonsense that comes with that life.
When he announced that he wouldn't seek a second term, the news was met with a chorus of, Yeah, we knew that already, from the Virginia political media.
So naturally, Webb, he who hates retail politics, who couldn't seem to wait to be done with Washington, is very publicly considering a run for the Democratic presidential nomination.
"I do believe that I have the leadership and the experience and the sense of history and the kinds of ideas where I could lead this country," Webb said in a recent interview with The New Yorker. "We're just going to go out and put things on the table in the next four or five months and see if people support us. And if it looks viable, then we'll do it."
His record as a senator would seem to indicate that he'd had a good shot at energizing at least a portion of the Democratic primary base. Known prior to his run for the Senate for his service in the military, his stint in the Reagan administration as Secretary of the Navy and as a writer on military issues, Webb distinguished himself for his work to address the rising tide of income inequality, famously leading an effort in the Senate in 2010 to pass a windfall-profits tax targeting executives at banks and financial-services firms that were bailed out by the federal government in the wake of the 2008 financial crisis.
Webb was then and continues to be critical of fellow Democrats who he says "feed some raw meat to the public on smaller issues that excite them, like the minimum wage, but don't really address the larger problem."
"A lot of the Democratic leaders who don't want to scare away their financial supporters will say we're going to raise the minimum wage, we're going do these little things, when in reality we need to say we're going to fundamentally change the tax code so that you will believe our system is fair," Webb said.
Stepping into his comfort zone on defense policy, Webb would also seem to be able to generate support among more liberal Democratic primary voters for his outspoken criticism of Bush and Obama administration foreign policy that continues to have the U.S. bogged down in the Middle East, with no end in sight.
"I've said for a very long time, since I was Secretary of the Navy, we do not belong as an occupying power in that part of the world," Webb said. "This incredible strategic blunder of invading caused the problems, because it allowed the breakup of Iraq along sectarian lines at the same time that Iran was empowering itself in the region."
The question is, Can Webb bring himself to a level where he enjoys the part where he can effectively sell himself to voters, and not only enjoys it himself, but actually look like he's enjoying it?
Webb's ability to make himself over to the point where he can answer in the affirmative will tell us how far his presidential aspirations can go.
– Column by Chris Graham