AugustaFreePress.com Editor and Augusta Free Press LLC President Chris Graham is running the 2016 TCS New York City Marathon this fall to raise money for Team AFSP – the American Foundation for Suicide Prevention – and needs your help to qualify for his charity exemption.
Help Chris officially qualify for the team now by donating to the cause. Each participant is required to raise $3,500 by October 31.
There are two ways that you can help Chris now.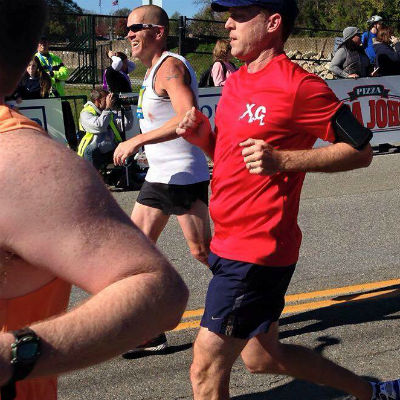 Online Auction:
We have set up an online auction that will run through April 30 at midnight on Facebook. Bid on items from Wild Wolf Brewery, American Shakespeare Center, the Wayne Theatre, the Waynesboro YMCA, Scentsy, Jake's Bar and Grill, Fun Nite Art, Hulls Drive In, the Rockingham County Fair and more. To date, we have bids totaling $715 on the auction.
Donate through Crowdrise: Or, if you prefer, you can donate direct through Crowdrise. To date, Chris has raised $711 in online donations.
Thank you to early donors:
Dr. John A. Downey
Jim Wilson
Donald Smith
John Lowdermilk
Kim Sours
Maggie R
Michelle Fix
Jill W. Clark
Beth Hodge
Paul Boyers
Matt and Deena Warner
Beau Beasley
Bill Martin
Keri Jones
Lynne Zackowski
James and Emily Goalder
John Cabell
Our Story: This is a cause that is near and dear to our hearts. As some of you know, my wife Crystal lost her twin, Christina, at age 15 to suicide. Crystal is now a member of the board of the Virginia chapter of AFSP, and she's working locally and statewide to raise awareness of efforts to #StopSuicide
We'd appreciate your help in getting us to our goal early so we can turn our entire focus to training.
Thank you for your consideration and for joining our team of cheerleaders for the effort!
A gift to the American Foundation for Suicide Prevention helps fund the mission to save lives and give hope to those affected by suicide. All donations to AFSP are tax deductible. AFSP is a four-star charity with Charity Navigator. The Federal tax ID # is 13-3393329. AFSP's Combined Federal Campaign (CFC) number is 10545. Thank you for your support.
If you are in crisis, please call the National Suicide Prevention Lifeline at 1-800-273-TALK (8255)