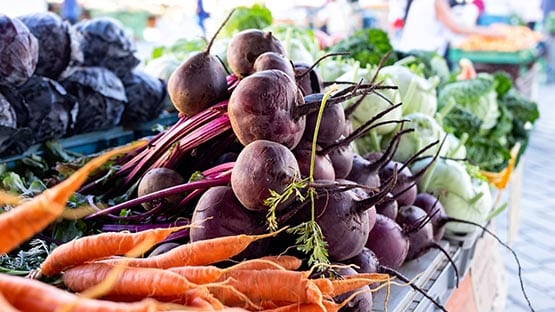 Waynesboro Public Schools and Project GROWS proudly present the Kate Collins Middle School student-run market, which began August 17.
Presented by the Waynesboro Education Farm, the market is where the school system provides students opportunities to sell produce that has been grown on the farm.
"Our partnership with Project GROWS and ongoing programming like the Kate Collins after school garden club and Waynesboro Education Farm Camp has resulted in an abundant summer harvest. We are thrilled to be able to offer students at Kate Collins Middle School an opportunity to engage the community through selling vegetables they had a hand in growing," Ryan Blosser, Farm Educator with Waynesboro Public Schools said.
Eliza Williamson, Math Intervention Specialist at Kate Collins Middle school and Kate Collins Garden Club Staff Lead said the Kate Collins Garden Club has been a hit with students from the beginning.
"We love seeing so many students get excited about the opportunity to enrich their learning through getting their hands in the dirt and learning first hand where healthy food comes from. The student-led market also gives the students an opportunity to apply the skills they are learning in the classroom in a real-world setting."
The market is open Thursdays from 3:30-5 p.m. through Oct. 12, 2023, in the lower parking lot at Kate Collins Middle.
All fruits of summer are available for purchase, such as tomatoes, squash, potatoes, peppers, roots and salad greens.
All proceeds benefit the Waynesboro Education Farm initiative.
Volunteer nights on the first Wednesday of every month consist of a cookout and working on the farm. The next volunteer night is Sept. 6, from 5-7pm. Bring the family out and enjoy a meal off the grill of hotdogs and bratwurst donated by PolyFace Farms and vegetables straight off the Waynesboro Education Farm.