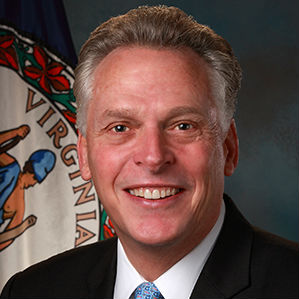 Governor Terry McAuliffe kept his promise to Virginians to take concrete steps to reduce gun violence in Virginia by vetoing on Friday three irresponsible pieces of legislation that had been supported by the gun lobby.
The three vetoed bills are SB 1137, SB 948, and HB 2009. They would have:
Allowed concealed handgun permit holders to transport loaded shotguns and rifles in their vehicles on any public street, road or highway, regardless of local laws, which could have put local law enforcement in danger (SB 1137)
Prevented the Virginia State Police from sharing information – including that which could convey a Virginia concealed handgun permit holder's criminal background – about permit holders with law enforcement in other states with which Virginia does not have reciprocity (SB 948)
Forced a local chief law enforcement officer to provide a certification or denial for the transfer of a machine gun within 60 days, thereby placing artificial timelines and undo restrictions on law enforcement as they seek to keep their jurisdictions safe (HB 2009)
Lori Haas, Virginia State Director of the Coalition to Stop Gun Violence, applauded McAuliffe for his proper use of executive authority in the interest of public safety.
"Governor McAuliffe has indicated time and time again that he doesn't answer to the gun lobby," Haas said. "His vetoes this week convey that he knows that his job is to protect the people of Virginia from gun violence that is entirely preventable. We thank him for his decisive action to safeguard our families."
Added Coalition to Stop Gun Violence executive director Josh Horwitz, "No one in their right mind would want to put men and women in blue at a disadvantage when they're out there protecting America's neighborhoods. Additionally, the Commonwealth issues permits with an interest in protecting public safety, and there's no reason we should disregard the safety of our fellow Americans in other states."
The Virginia General Assembly will convene for a session to vote on overriding vetoes on April 15. McAuliffe's vetoes of SB 1137, SB 948 and HB 2009 are likely to be sustained due to an evenly divided Virginia Senate.