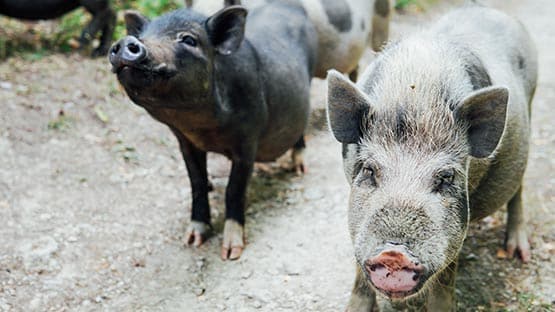 Rachel and Thomas Henley of Goochland County were named the 2023 Virginia Farm Bureau Federation Young Farmers Excellence in Agriculture Award winners.
They were recognized July 29 during the VFBF Young Farmers Summer Expo in Page County.
The Excellence in Agriculture Award recognizes individuals and couples for involvement in supporting agriculture, leadership ability, and involvement and participation in Farm Bureau and other organizations.
As Excellence in Agriculture Award winners, the Henleys will receive a Kubota utility vehicle courtesy of Virginia Farm Bureau Mutual Insurance Co. and a travel package to the 2024 American Farm Bureau Federation Annual Convention in Salt Lake City in January. While at the convention, they will compete for the AFBF Young Farmers & Ranchers Excellence in Agriculture Award.
Morgan Slaven of Augusta County was runner-up for this year's state-level award and will receive $500 and a travel package to the AFBF convention.
Other finalists were John Benner of Augusta County; Dustin Francis of Halifax County; Morgan Washburn of Franklin County; and Amanda Weakley-Scott of Madison County.
Goochland County: Meet Rachel and Thomas Henley
Rachel and Thomas Henley represent District 8 on the VFBF Young Farmers Committee.
Thomas works on his family's multi-generation dairy and grain farm in Goochland County while he and Rachel manage agritourism events, work on local land preservation programs and help others in agriculture.
Rachel enjoys helping other agriculturalists as a Virginia Cooperative Extension agent in Powhatan County. She manages Master Gardener volunteers in Powhatan and Goochland and also works with local farmers.  Rachel also serves the community along with other female family members who have donated more than $10,000 to community organizations and college scholarships.  The group also has held various educational events for area students, and their sunflower festivals have drawn more than 26,000 attendees.
Thomas has been working on his family's farm for 12 years, assisting with crop production and the dairy. While every week's tasks may be different, he said he finds planting corn and soybeans the most rewarding. He also keeps the family farm tradition alive by helping raise and feed about 20 hogs a year.
The Henleys have been working to help farmers across the country preserve prime farmland soils. As development surges and land prices increase, they are working with state and national legislators, Virginia Farm Bureau and other organizations to financially support farmers struggling to acquire land.
During their presentation to the judges, the Henleys highlighted three key issues that the industry needs to address in the next five years: the gap between agriculture and consumers; difficulties in farm business transition; and the need for farmland preservation and conservation.
To help address these issues, the couple has taken part in farm tours for local school groups and organized agriculture awareness dinners for local legislators. They also have held and supported statewide farm transition workshops and trainings, started the Virginia Farm Succession Professionals Network, and worked on local land preservation programs such as the Agricultural and Forestal District Program.
The Henleys plan to continue farming, hopefully one day becoming the next-generation owners of the family farm.
"This contest is a great way to look at where you've gone and really consider where you're going," said Rachel. "And it's been a great way to get to know more young farmers across the state."
Thomas said: "The whole experience was eye-opening to how much more you can be involved in trying to make a difference."
Related stories
Lawmakers discuss challenges of young farmers, rural energy initiatives, at roundtable
Published date: September 3, 2022 | 9:17 am
Orange County couple wins Excellence in Agriculture award
Published date: August 16, 2022 | 2:01 pm
Virginia young farmers earn national Farm Bureau honors
Published date: January 16, 2022 | 12:05 am
Virginia Farm Bureau leaders tapped for state-level agriculture positions
Published date: January 9, 2022 | 3:37 pm