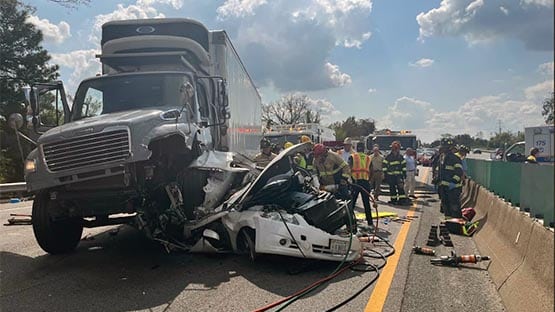 Virginia State Police responded to a multi-vehicle accident on Interstate 95 in the City of Richmond just after noon on Tuesday.
Five vehicles were involved in an accident near the 72-mile marker. There was one serious but non-life-threatening injury as a result of the crash.
Kenneth Milling, 57, of Chester, was transported to VCU Medical Center. He was driving a white Nissan Altima and was wearing a seatbelt.
According to Virginia State Police, the chain-reaction crash began when a 2006 red Dodge Ram pickup stopped in the left lane due to a flat tire. A 32-year-old male from Richmond was charged with improper stopping on a highway as a result of the accident.
After the pickup stopped, a white 2024 Chrysler Pacifica approached the red Dodge and also stopped in the left lane.
A white 2012 Nissan Altima approached both vehicles and attempted to move from the left lane to the center lane. However, it struck the rear of the Pacifica and came to rest partially in the center lane, in the path of a 2020 Freightliner box truck, which could not stop.
The Freightliner struck the rear of the Nissan, resulting in an override collision, blocking all lanes of northbound travel, along with the left and center lane on the southbound side.
After the initial impact, the Pacifica was pushed into the rear of the red Dodge and spun out into the center lane where it was struck by another black Dodge Ram truck.
This crash remains under investigation.