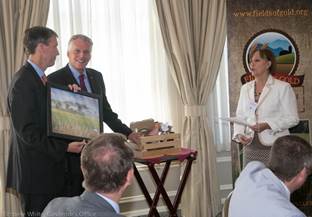 Central Shenandoah Planning District Executive Director Bonnie Riedesel presented Virginia Governor Terry McAuliffe with a harvest box of Fields of Gold Farm Trail products.
Secretary of Agriculture Todd Haymore was given a framed photo of a Rockbridge County landscape depicting the region's beauty and the importance of farming in the Fields of Gold region.  Ms. Riedesel presented the items to the Governor and Secretary following the Shenandoah Valley Partnership's (SVP) Annual Meeting held at the Stonewall Jackson Hotel & Conference Center on July 22, 2015.  The harvest box contained locally grown and produced items from each of the eight counties that participate in Fields of Gold – Shenandoah Valley's Farm Trail.
The Governor was the keynote speaker at the meeting, which showcased SVP's accomplishments in promoting and attracting business to the Valley.  Gov. McAuliffe talked about recent agricultural expansions, growth in the state wine and craft beer industries, increased tourism, and the urgency of job creation as the Commonwealth's economy experiences significant changes in the coming years.
For more information about the Fields of Gold program, contact Tracey Coltrain, [email protected], (540) 885-5174 or visit www.fieldsofgold.org.