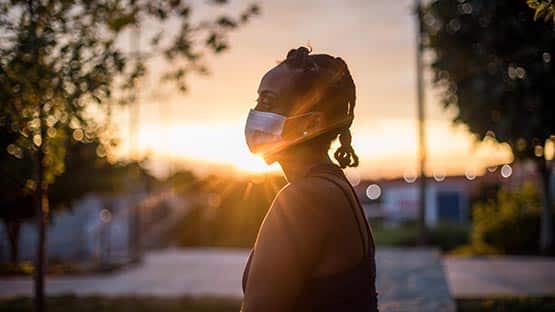 Millions of people in the United States and Canada are dealing with poor air quality due to wildfire smoke. The smoke is the result of more than 400 active wildfires in Canada with winds bringing the smoke and hazy conditions to New York, New Jersey, Pennsylvania, Virginia and along the East Coast.
Physical health and mental health may be jeopardized by the smoke, according to experts.
Physical health
The Blue Ridge Health District sent out an alert Thursday afternoon warning Virginians that smoke and fine particles can worsen chronic heart and lung diseases. They also warned that healthy people are also at risk for getting sick.
According to BRHD, breathing in wildfire smoke can cause symptoms such as coughing, trouble breathing normally, stinging eyes, scratchy throat, runny nose, irritated sinuses, wheezing, shortness of breath, chest pain, headache, asthma attack, tiredness and fast heartbeat.
Certain people may be more likely to get sick if they breathe in wildfire smoke, including:
People with heart or lung disease, such as asthma and chronic obstructive pulmonary disease (COPD)
Children and teenagers
Older adults
People who are obese
Individuals with diabetes
New or expectant mothers may also want to take precautions to protect the health of their babies
BRHD says you can limit your exposure by:
Limiting time outdoors
Taking more frequent breaks from the outdoors
Avoiding strenuous activities while outdoors
Change the setting of any window air conditioning unit to "recirculating air" to avoid pulling air from the outside in
Wearing an N95 respirator while outdoors. Cloth masks trap large particles but will not protect your lungs from smoke. "N95" mask (respirator), properly worn, will offer some protection
The Blue Ridge Health District said that pets and livestock can also be affected by wildfire smoke.
"Watch pets and livestock closely for symptoms and take steps to reduce their exposure," the alert read.
The BRHD recommends checking air quality where you live on the AirNow website.
Mental health
James Madison University professor Debbie Sturm said events of this nature may also affect your mental health – triggering anxiety related to the consequences of climate change.
"Eco-anxiety is a rational and logical response to the catastrophic nature of what we're witnessing with regard to climate change," said Sturm, a professor of graduate psychology at the Harrisonburg university.
Sturm said that young people in particular have a logical response to something terrifying that happens around them and feels out of their control and influence.
Sturm said climate anxiety is not well understood, even among mental health professionals.
"People have a hard time making the connection and we don't know how to talk about it. We don't have the language to talk about it, we don't know where you're supposed to talk about it," she said.
Related stories
Virginia air quality unhealthy: What that means for UVA baseball, other outdoor activities
Poor air quality in Virginia likely to remain for days due to Canadian wildfires; N95 masks recommended
JMU expert: Mental Health Awareness Month ends, climate anxiety discussion not over