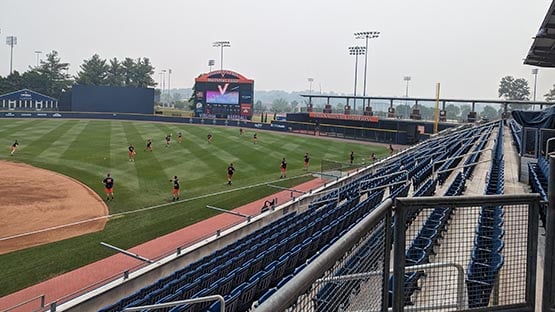 The hazy, smoky conditions in the Shenandoah Valley and Central Virginia have reached an unhealthy level, according to AirNow.gov.
Washington, D.C. and Northern Virginia have the worst air quality in the United States now.
The conditions have worsened throughout the day but relief may be in sight.
AccuWeather Senior Meteorologist Thomas Kines said the worst conditions in the region "will be this afternoon."
Popular vacation destinations Virginia Beach and the Outer Banks are also registering as unhealthy right now, Kines said.
As AFP reported Wednesday, the winds are currently coming from the north bringing smoke and haze to the area from the wildfires in Canada.
"As the wind becomes more southwest and south over the weekend, the air quality will improve quite a bit statewide," said Hines.
In Charlottesville, the University of Virginia is preparing to host Duke University in baseball Super Regionals starting on Friday at noon, and the current weather conditions are unprecedented.
The UVA baseball team has an open practice today. Scott Fitzgerald, the baseball sports information director, told AFP that as of this afternoon, the Friday game is still on.
However, he said, UVA is monitoring the situation, and the NCAA is working with Major League Baseball and determining what the best protocol moving forward over the next 24 hours should be.
The Washington Nationals baseball game scheduled for today against the Diamondbacks was postponed due to poor air quality in the Washington, D.C. area.
In Valley League baseball action tonight, many teams are announcing that games are postponed including the Harrisonburg Turks, Staunton Braves and Woodstock River Bandits.
Charlottesville City Schools released a statement saying they were transitioning to indoor activities for the afternoon, especially at elementary schools.
The Virginia Department of Environmental Quality is encouraging Virginians to shorten or choose less strenuous outdoor activities today.
If you have symptoms including a headache, irritated eyes or sinuses, an irritated throat, coughing, difficulty breathing, chest pains or an asthma attack, you are encouraged to go indoors.
The American Red Cross recommends the following tips to protect yourself from wildlife smoke:
Stay in a room you can close off from outside air
Use a portable air cleaner to keep the air inside clean
Avoid lighting candles, fireplaces or gas stoves
AFP Sports Writer Scott German contributed to this report.