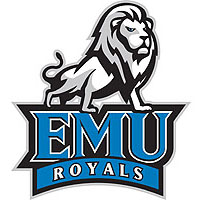 Scoring first doesn't always turn into a win as the EMU field hockey team found out Wednesday. The Royals got the first goal but still found themselves on the short end of a 4-1 decision to McDaniel College.
After fending off a flurry from the Green Terror over the opening minutes, EMU struck first. Following a corner insertion, Lorraine Armstrong (Greencastle, Pa./Greencastle-Antrim) found a rebounded ball on the back post and stuck it in for a 1-0 lead in the 18th minute.
McDaniel surged late in the half and notched two goals in the 33rd minute to steal a 2-1 lead at the break.
Both teams had some good chances early in the second, with the Royals getting perhaps the best look. The women earned a penalty stroke in the 43rd minute, but Camille Williams(Media, Pa./Delaware County Christian) sent her attempt wide. Eastern Mennonite unleashed two corners and three shots over the next two minutes, but they still couldn't notch the game-tying goal.
The Green Terror finally got some breathing room with a score in the 49th minute, and then tacked on one more in the 58th for the final margin.
The women were outshot only 19-11 overall, but 14-5 in on-goal attempts. Hannah Daley (Lothian, Md./Southern) made 10 saves for EMU. Armstrong led the women with three shots on goal, while Jenessa Derstine (Harleysville, Pa./Christopher Dock) put two on mark.
The loss drops the Royals to 0-3. They return home this Saturday to take on York (Pa.) at noon on the Turf Field.