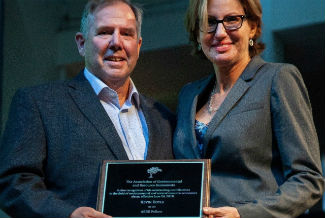 The recent cut of the Environmental Economics Advisory Committee from the EPA Science Advisory Board signals a general decline in scientific rigor and equity in policymaking, according to Virginia Tech expert Kevin Boyle.
Recent moves by the EPA also indicate that not all benefits are being accurately valued in questions of environmental policy, and without the committee, the agency must rely on current EPA Science Advisory Board membership and ad hoc committees. These decisions, Boyle says, undermine established scientific procedures and facilitates poor analysis.
"The current action is to change the rules for doing economic analysis so that they are removing what are called co-benefits," said Kevin Boyle, Virginia Tech professor of agricultural and applied economics. "The co-benefits typically include public health improvements. They're trying to institutionalize that those type of benefits would not be counted, which would make it very hard for new environmental regulations to be put in place, and make it easier to reverse existing policies – not things that just affect us today; they have impacts on our children and our children's children. They're long-term impacts of pollution so we're reversing decades of improvement to the environment and society."
Boyle recognizes multiple scientific issues with the recent change.
"A fundamental element of good science is that the results are transparent and replicable – a credible review of your work is done by an independent party," Boyle said. "And a credible economic analysis would include all measurable benefits and costs. If they couldn't be measured, then they would at least be noted and considered because you want the most efficient and fair policies put in place. To do that, you need to count all the benefits and costs and take into consideration the effects – both positive and negative – on all groups so no one is left out of the decision-making process."