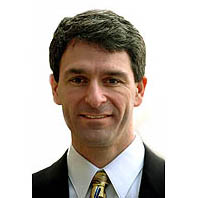 Virginia Attorney General Ken Cuccinelli has reversed course on his call for immediate corrective action regarding ballot access for the March Republican Party presidential primary.
"After working through different scenarios with Republican and Democratic leaders to attempt to make changes in time for the 2012 presidential election, my concern grows that we cannot find a way to make such changes fair to the Romney and Paul campaigns that qualified even with Virginia's burdensome system," Cuccinelli said in a statement Sunday night.
Cuccinelli had come under fire after saying he would push for immediate action to allow Texas Gov. Rick Perry and former House Speaker Newt Gingrich to be given spots on the March 6 primary ballot. Former Massachusetts Gov. Mitt Romney and Texas Congressman Ron Paul both qualified for inclusion in the primary by meeting requirements including gathering signatures from 10,000 registered Virginia voters with at least 400 of those voters living in each of the state's 11 congressional districts.
Cuccinelli said changing the rules midstream "is inconsistent with respecting and preserving the rule of law – something I am particularly sensitive to as Virginia's attorney general."
"I believe consistency on the part of public officials is an important attribute. And I believe that Virginians are best served by an attorney general who consistently supports the rule of law. That leads to my conclusion that while I will vigorously support efforts to reduce the hurdles to ballot access in Virginia for all candidates, I will not support efforts to apply such changes to the 2012 presidential election," Cuccinelli said.
"I do not change position on issues of public policy often or lightly. But when convinced that my position is wrong, I think it necessary to concede as much and adjust accordingly."