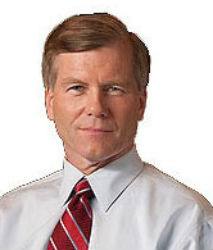 Attorneys for former Virginia Gov. Bob McDonnell and his wife, Maureen, based their defense against federal corruption charges on the dysfunctional relationship between the former First Couple.
The argument, which according to scuttlebutt tested well with focus groups, was the foundation of a defense that there was no way to establish a nexus between the loans and gifts from a friend who also happened to want to do business with the state government because Maureen McDonnell was the main point of contact with Jonnie Williams, the CEO of a pharmaceutical company who testified that he felt like he was buying access to the governor's inner circle.
The most damning evidentiary indication that this defense could be on shaky ground was a set of two emails from the former governor himself, one to Williams finalizing the details of a $50,000 loan from Williams, the second, sent six minutes later asking an aide to "see me about anatabloc issues" at Virginia Commonwealth University and the University of Virginia.
Jurors have yet to talk publicly about their verdict, but the juxtaposition of these two emails were key to prosecutors in undermining the defense strategy to make Maureen McDonnell the fall guy, even as the public got caught up in the fascination over evidence and testimony about Rolex watches and Fifth Avenue shopping sprees and the undefined inappropriate relationship that developed between the former First Lady and the business executive.
Even a loan itself would not necessarily imply wrongdoing; shopping trips, weekend sleepovers, driving luxury vehicles, large monetary gifts for weddings, all salacious, sure, but for a quid pro quo to work, there has to be a something on both ends.
The hard part for jurors had to be determining that the something that Williams got for his largesse, basically perfunctory meetings with state and university officials that didn't pan out in terms of boosting his pharmaceutical business, pushed what transpired between the governor and the businessman from being morally inappropriate to being criminal.
Basically, if you think you're buying something, just because you don't get what you thought you were buying, did you still not make the purchase, and on the other side, if you thought you were selling something, just because it turned out to be less than what you were offering, did you not actually sell it?
That's what this seems to come down to here, that and God-awful legal advice from the governor's team, in particular. Bob McDonnell had been offered a deal that would have had him pleading guilty to a single count, likely resulting in at worst the loss of his law license.
Take that deal, and we know nothing of the First Couple's dysfunctional relationship, would not have likely paid a lot of attention to the extent of the inner dealings with Williams, and whatever level of attention paid would have been quickly forgotten, and most importantly, the McDonnells would not be exposed to decades in prison time, with federal sentencing guidelines suggesting that the minimum sentence for each come in around 10 years.
An appeal is no question coming, but don't expect it to prevent the McDonnells from making a trek at taxpayer expense to a white-collar prison sometime early next year.
– Column by Chris Graham