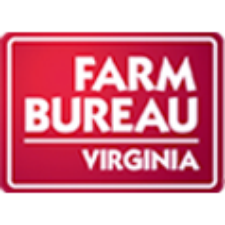 Almost 800 farmers and agricultural dignitaries will help celebrate the 90th anniversary of the Virginia Farm Bureau Federation at its annual convention Dec. 1-3 at the Norfolk Waterside Marriott.
In addition to workshops about advocating for agriculture and why membership in Farm Bureau matters, almost 300 delegates representing 88 county Farm Bureaus statewide will help shape the organization's state and federal policies for the coming year. During the convention, which has as its theme "For the Love of Agriculture – 90 Years Strong," delegates will discuss and vote on policies that could affect current and future generations of Virginia farmers.
"Policy recommendations made at the grassroots level culminate at the convention and direct our efforts in the upcoming year at the General Assembly and in Washington," said VFBF President Wayne F. Pryor.
In addition to policy development, convention participants have the opportunity to hear from keynote and workshop speakers. Darryl Jenkins, chairman of the American Aviation Institute, will kick off the convention Tuesday at lunch with remarks on the future of drones in agriculture.
Jenkins is the founder of the George Washington University Aviation Institute, a past professor at GWU and Embry Riddle Aeronautical University, a consultant for airlines and aviation companies and author of the Handbook of Airline Economics.
Gov. Terry McAuliffe will address delegates on Dec. 2.
Tuesday afternoon workshops include one called For the Love of Advocating for Agriculture, which will help farmers develop strategies for communicating with consumers. It will be led by Dr. Dixie Watts Dalton, a professor and agriculture program chairman at Southside Virginia Community College.
Additionally, Aaron Gilland, president of Dendro Resource Management Inc., will speak on Property Security Concerns for Landowners.
During the Dec. 2 and 3 business sessions delegates will elect members of the VFBF board of directors to represent Districts 2, 5, 8, 11 and 14.
With 128,000 members in 88 county Farm Bureaus, VFBF is Virginia's largest farmers' advocacy group. Farm Bureau is a non-governmental, nonpartisan, voluntary organization committed to supporting Virginia's agriculture industry and preserving the Virginia way of life. View more convention news as it becomes available at
VaFarmBureau.org/NewsVideo/ConventionNewsroom.aspx.