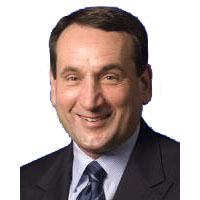 Duke coach Mike Krzyzewski had a ready explanation for why his team lost at Louisville on Saturday: the mean ol' referees.
"That was the most physical second half we've ever been in this year. And we were unable to respond at the appropriate level to it," Krzyzewski said, talking not as much to the reporters deep in the bowels of the Yum! Center as to another, more selective audience.
Think back to the Duke home loss to Syracuse on Jan. 18, which you may remember for Coach K blowing past the postgame handshake line to berate an ACC senior official following a no-call on the final play of that game.
"The last play is amazing. Have you seen it? Go see it. It is literally amazing. The play with Matt Jones at the foul line. It is amazing basketball. Let's just put it that way," Krzyewski said.
The play in question had Jones getting a rebound of a free-throw miss and attempt a three-quarters court heave. Coach K wanted a foul called on the shot that would have given Jones three free throws.
On a three-quarters court heave.
The ACC seemed to get the message. Duke has been back to its rightful place in getting calls to help push it across the finish line when needed.
Now think back to the end of the Virginia game last week. And no, not just the series of no-calls on Grayson Allen's buzzer-beater. That is what it is.
Duke went 2-for-13 from the field in the final 12:17, but got sent to the line 14 times down the stretch on non-shooting fouls, and the Blue Devils got eight of their final 12 points on the charity tosses.
Saturday at Louisville was Act II of that production. A Marshall Plumlee dunk with 10:27 to go gave Duke a 54-45 lead, but the Blue Devils wouldn't score again from the field until a Derryck Thornton layup with 2:14 to go that cut a Louisville lead to 66-62.
Duke scored eight of its last 14 points on Saturday from the line, again on non-shooting fouls. Among Louisville's transgressions: a foul on little-used freshman center Chase Jeter on a rebound that even Dick Vitale thought was a blown call, a touch foul on Damion Lee on Grayson Allen on a dribble handoff 30 feet from the basket, a foul on Trey Lewis on an inbounds pass to Luke Kennard in backcourt more than 80 feet from the hoop.
Duke went 6-of-8 at the line in the final 10:27, while shooting 2-of-8 from the field and committing eight turnovers.
Louisville outscored the Blue Devils 26-10 over that stretch while shooting 8-of-18 from the floor, 3-of-7 from three-point range with two turnovers.
The Cardinals were 7-of-14 from the line in the final 10:27, four of the free throws on technicals (Louisville made just one of those four), six coming in the final 41 seconds as Duke tried to extend the game (Louisville went 3-of-6 on those attempts).
But back to Krzyzewski explaining how Louisville didn't win the game without some help from the zebras.
"They played their butts off," Krzyzewski said, backhanded compliment to follow. "They hit big shots, and they're really good. I respect the hell out of them. They're going to play the game the way they're allowed to play it, and they did."
Ah, they played the game "the way they're allowed to play it."
Got it. That's why Louisville won.
Not because Duke had two makes from the field and eight turnovers in the final 10:27. Not because Duke was gassed down the stretch because Krzyzewski somehow only has six players he deems worthy of getting meaningful minutes despite having the same 13 scholarships to give out that everybody else has.
It's the refs.
This guy is our Olympic coach.
"You can forget about all those videos that were shown. You've got to be kidding me? Don't show those videos," Krzyzewski said. "Yes, it was inconsistent, but you've got to adapt, and we were not strong enough to adapt to a different environment and a tough environment and a team that's going after us like crazy. Louisville, I give them all the credit in the world. They played really hard, and you're going to tell them not to do that? They're going to go after you, and they should. That's why they have an outstanding program."
You lost a game, Coach. That's all.
Man up and do better next time.
– Column by Chris Graham