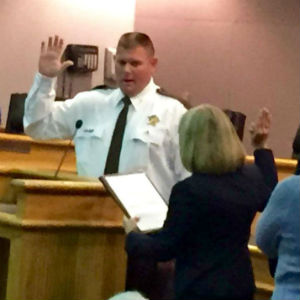 Thursday night was about ceremony for Augusta County Sheriff-elect Donald Smith, who took the oath of office at the Augusta County Government Center.
"Now the focus is on the task at hand. I'm ready to roll my sleeves up and go to work," said Smith, who takes office on Jan. 1.
At the top of the order of business for Smith, 33, is rebuilding relations in a department fractured by the four-candidate race that featured three deputies, including Smith, running for the top job.
Other focal points for Smith include the ongoing Virginia State Police investigation into missing money from the evidence department that put a cloud over the last several months of the tenure of outgoing Sheriff Randy Fisher, and rebuilding public trust in the sheriff's office.
"I'm ready to start making the changes that need to be made and start the healing process for the department and get things moving forward," Smith said.