Local
Neighbor sets up GoFundMe to help Crozet family that lost everything in townhouse fire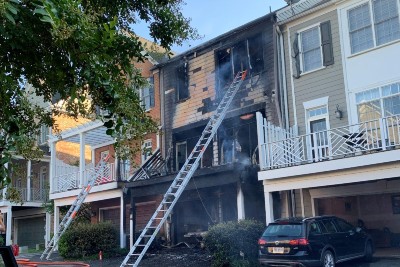 An Albemarle County family lost everything in a Thursday afternoon fire. A neighbor has started a GoFundMe campaign to help the family start over.
"We live in Old Trail in Crozet, and they live on Old Trail Drive. We wanted to have a way to give them donations, money, support, etc., but without them having to set anything up or cause any other stress or worries by asking them for their immediate needs," said Laura Mesher, who set up the GoFundMe campaign for the Davenport family – mother Denise and her two children.
The 5:28 p.m. Thursday fire caused $450,000 in damage to the home in the 1000 block of Old Trail Drive in Crozet, according to Albemarle County Fire Rescue.
The family was at home when the fire started. One person was transported to the UVA Hospital for treatment of smoke inhalation.
The fire started in a pickup truck in the garage and traveled to the deck where it ignited a propane tank under a grill.
As of just before 2 p.m. Friday, the GoFundMe campaign had raised more than $14,000.
"This GoFundMe page will go directly to Denise; that way, she has support from everyone and can be used as she needs it," Mesher said. "I know this community in Crozet, and Old Trail, significantly helps one another whenever required, so we must come together and support this family."
To view the GoFundMe, visit: gf.me/v/c/pydk/82cnh-the-davenport-family.