Why would anybody want to run for Staunton City Council? Erik Curren gives his reasons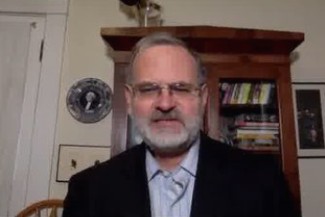 You'd forgive Erik Curren if he'd decided that he'd done his part to help Staunton keep moving forward.
Curren, an author, PR specialist for a solar power developer and marketing instructor at Mary Baldwin University, served two terms on Staunton City Council, from 2012-2020.
Running for a third term in 2020, Curren ran into a political buzzsaw.
"That was a tough election. It was the beginning of COVID. Nobody had ever gone through anything like that before. And we really didn't know how to run a race in a situation like that. And there was also this big gun rights push," said Curren, who lost in that run for a third term in the Republican wave that May.
The 2020 cycle in Staunton led to the election of four Republicans, a shock in the center-left Queen City, which gave Democrat Joe Biden 53.7 percent of the vote in November 2020, then gave Democrat Terry McAuliffe 51.2 percent in the November 2021 gubernatorial election.
But the four Republicans elected in the spring constitute a majority on the seven-member City Council, and will through November 2024.
The November 2022 elections are a sort of midterms in Staunton, a finger in the air to test how the voters are thinking on how the Republicans are doing running the city.
By all accounts, things haven't been going all that well. The GOP majority pushed City Manager Steve Rosenberg out for no apparent reason, other than to show its power. The city is about to lose its pitched battle with Augusta County over the future of the downtown Augusta County Courthouse.
The majority also picked a nonsensical fight with the Staunton School Board over local school funding that it eventually had to give in on earlier this year.
And then there's the just general feeling that nothing of any consequence can get done without silly infighting.
Again, you wouldn't blame really anybody who might have been thinking about taking a stab at one of the three open seats in the at-large elections this fall from maybe deciding to wait to run in 2024, when the four Republican seats are up for re-election.
That Curren is on the ballot in the 2022 city midterms says a lot about where he thinks the city needs to go between now and 2024.
Why he's running in 2022
"I've had two years to rest, to think about things, to ask myself about our society, our politics. I read a lot of history, and I've really been getting into the Civil War. And I started to think, you know, in 1860, Americans were pretty polarized, and everybody knows what happened, and it was awful. I don't think we're facing that kind of situation again. But I do think we're really polarized, and it comes on a national level, and then it trickles down to the state. And unfortunately, it came down to Staunton, to the local level, two years ago.
"I felt like more or less had to run," Curren said. "Number one, I want to protect the tradition of nonpartisan government that we have at the local level, where we just cooperate on stuff like schools, economic development, and fixing potholes that are not Republican or Democrat issues, they're just issues. And then number two, I'm the only person with any experience on City Council who was ready to step up. I kept waiting for other people to do it. And the only ones who did, bless their hearts, were people who hadn't done it before. I think it could be wonderful to have some new folks in there, but I think just having new folks in the difficult, contentious City Council environment that we have, I'm not sure that that will calm things down and improve local government. So, I felt, you know, more or less obliged to step forward and bring my experience to bear.
"I love living in Staunton. Staunton has a high quality of life. One of the reasons it's so high quality is because we've had really good local government. Our taxes are fairly low. Our service services are very high quality. Our town is beautiful. The historic preservation and the improvements have just been getting better and better every year. It's been getting more appealing for people to move in. It's been getting more appealing for tourists. Our property values are going up.
"Things were moving in the right direction. But over the last two years, I had to ask myself, are things still moving in the right direction? With all the contentiousness on City Council and the partisanship, you know, to bring in national issues where the city doesn't really have any authority, all it does is help people win elections, and then split citizens apart. It's a cheap way to win elections, and it leaves lasting damage on our civic fabric.
"I thought about that, too, for two years, and I thought well, you know, the beauty of our local government systems down here, , as you know, and cities like Stanton, Waynesboro, Harrisonburg, is that they're a council manager system. So, you do have the professional city manager and the city officials who remain even when the council changes during elections. We don't have a strong mayor like they have in Richmond.
"I thought, well, you know, maybe the city staff will just be able to keep things moving along even keel. And unfortunately, they weren't protected, either. In the end, it's a democracy, and the elected officials are the ones who have the voter mandate. If they want to change things with the city staff, they can change them. And that's exactly what happened. I'm not sure that the changes were for the better, but I'm really concerned about the way they were done, that there wasn't much transparency, the things were done in haste, that it seemed very partisan, and no good reasons were given for a lot of changes that were made in the city.
"I started to think over the last two years, what if somebody doesn't step forward to put the train back on the tracks? It's going to be a big derailment. And I continue, you know, to like Staunton, I care about Staunton, I want to keep living here, and I want the place to keep getting better. And so more and more, I started to think, yeah, somebody's got to step forward."
The value of experience
Curren makes good points there about the value of experience in what is a trying time in city government. It will be good to get some new voices in there, no doubt, but having somebody who has been through the wars will give those who feel that the Republican majority has taken Staunton off-track a fighting chance.
For example, with the new big move that needs to be undertaken by the City Council, hiring a new city manager.
"City Council has a right to appoint whatever city manager they want, so if there is a majority now on City Council, it's quite possible that they'll bring in a city manager that the citizens won't be that happy with. That's another reason I think it's important to get experienced people on City Council, so that, you know, for example, myself, I would be ready on the first day to ask questions about the city manager hiring process, to make sure that things were done in the open," Curren said.
"The challenge is when you have new people in there, I remember this well, it's not easy to just start work the first day you're elected if you've never had experience in local government before. For me, and for most others I know, it takes about two years to learn all this stuff. You've got to learn the FOIA, the open meetings, the Robert's Rules of Order, the procedures of state and city council, all the departments, Virginia state code as it applies to Stanton budgeting. It's like drinking from a firehose. And I think, you know, if you're new and you go into a situation like this, it just basically gives the majority much more leeway to move things along the way they want to do it. And if it's not transparent, if it's not open to public process, if it's not fair, new people don't know necessarily when to point that out. And so that's another reason I felt like I had to step forward to insist on a transparent and open and fair process."
It's not a job that everybody wants
A lot of smart people would look at the current discord on City Council and decide that it's not worth the time, effort and heartache to fight the fight.
Curren acknowledges as much.
"This may not seem like that attractive of a job to people who know about it," Curren said. "Even look on the conservative side, there's really only one candidate, as far as I know, who identifies as a conservative, whereas two years ago, there were four of them, and they ran together as a slate, and there was a lot of coordination and a lot of energy. And now the energy on their side seems to be quite low, honestly. So, I don't know that anybody is that excited about this City Council.
"I talk to people on both sides. I try to be as nonpartisan as I can, and I have nothing against conservatives being on City Council. I actually think it's good. I think you need diversity of opinion. If you have all people who think alike, then you're going to miss a lot of good ideas. So, I think we should have conservatives on council, along with progressives.
"I consider myself a pragmatic progressive, and I like working with other progressives and with conservatives on stuff that's not political. But you know, if people chose to choose to vote as a bloc most of the time, then, you know, it's not going to be that attractive for people outside their bloc. So, what is that person to do? That person's role seems to be to stand for the citizens. The bloc may not be representing what the citizens really want. But if the bloc is not being transparent, fair and open, then it would be up to somebody who's not in that bloc to constantly shine the sunshine of public scrutiny on what that group of people is doing.
"I think job one is just to bring down the drama. And this is what voters have been telling me. So many people on both sides say there's too much drama, too many personalities. My goal would be to work collegially with everybody. And I know I'm going to lose some votes on the side of people who hate the current City Council. But if folks are elected, and you are also elected, you have a responsibility to work with them when you can, in the citizens' best interest, and not to just oppose people just to be partisan. So that would be number one, bring down the drama and kick out the partisanship, go back to the way we used to do things, which was a good way, just cooperating. We may disagree on issues, that's OK. That can be great, because then you can come up with some good ideas.
"Sometimes you just have to stand firm. Sometimes you compromise. And sometimes, if you treat people with respect and dignity, you can actually find that you may have more in common than you think. But if your approach is just to assume that people are so foolish or evil, that you can't work with them, that kind of us versus them mentality, it's not healthy on the national level, and it has no place at all in a town like ours where, you know, neighbors have to live together. And one of the things that makes a place like Staunton great is that people get along. So that's number one, take down the drama while making things more transparent.
"Number two, why did they have to fight over the school budget so much? That seemed totally pointless. In the end, they all wound up agreeing to basically give the schools most of what they were asking. Why couldn't they have done that at the beginning? Both conservatives and liberals agree that Staunton needs a strong school system. Our teachers are underpaid. Our aides are underpaid. Everybody's underpaid, they're overworked. COVID has made things difficult for them, they have a very tough job, but their job is super important, educating our kids.
"We should all care about the school system. More help for the schools, more creative ways to find funding, if it's not through the usual taxes, let's come up with something else, not raise taxes. That is not what I'm asking for. I'm asking for more creative ways to find funding, for example, maybe through the private sector. So, more creativity for education, and for everything else, economic development. I don't want to see the Staunton Crossing property sort of privatized into some hands of real estate developers through some process that is not open and transparent. I want to see the city get the maximum dollar and the maximum benefit in terms of business development, that's going to bring in taxes at the highest level for the longest period in the future and create good jobs. I think the city should insist on remaining part of that process, and not sort of outsource that to local developers.
"I care about issues like equity and inclusivity. I care about clean energy. I think Staunton has done almost nothing for that. There are things we could do, common sense things that we could do, that would save the city money and save the citizens money and help us be sustainable, which is definitely something our citizens want. And then of course, I support walkability, bikeability and quality of life."