Warner cosponsors bill to take partisanship out of congressional redistricting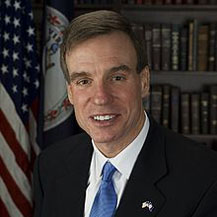 U.S. Sen. Mark R. Warner (D-VA)  joined Sens. Tom Udall (D-NM), Kirsten Gillibrand (D-NY), Sheldon Whitehouse (D-RI), Jeff Merkley (D-OR), and Martin Heinrich (D-NM) to introduce the Fairness and Independence in Redistricting (FAIR) Act to take partisanship out of the often divisive congressional redistricting process by requiring states to establish independent, bipartisan redistricting commissions.
In most states including Virginia, state legislatures — working with their governor — draw federal congressional district boundaries. Unfortunately, giving a political body control over creating district lines has too often resulted in gerrymandered districts drawn to keep incumbents in office. The FAIR Act would replace this system with independent, citizen-led redistricting commissions similar to those voters have approved in Arizona and California, which are less influenced by politics and special interests.
"In Virginia today, voters are experiencing a divisive, partisan legal battle over gerrymandered districts which has reached all the way to the U.S. Supreme Court. It's time to take steps to fix the broken redistricting process," said Sen. Warner. "Independent, bipartisan state redistricting commissions will help end the partisan gamesmanship, strengthen democracy and give voters a stronger voice in who represents them in Congress."
Under the FAIR Act, states would be required to establish an independent, bipartisan redistricting commission that would be tasked with redrawing congressional district lines once every 10 years based upon the principles outlined in the bill. A minimum of five members would make up each state commission. An equal number of members would be appointed by each the minority and majority floor leaders in a state legislature. The bill also includes provisions requiring the commission to meet in public, solicit public input and advertise any plan it has approved.
The U.S. Supreme Court is set to hear arguments in Virginia's congressional redistricting case on Monday, March 21. Earlier this week, Chief Justice John Roberts turned down a request to delay enacting new district boundaries until the Court issues its ruling in the case.
Comments