STAB kindergarteners create Chihuly-inspired art in FAB Lab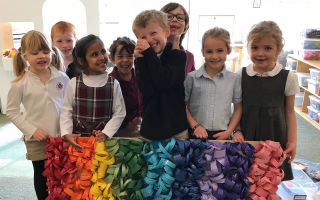 Mrs. Rubin's kindergarten class has had a lot of questions about rainbows. So many, in fact, that they've spent several months investigating the topic together during their dedicated FAB Lab time periods.
"FAB Lab is really an extension of our curriculum," noted Rubin. "It provides us with a dedicated time each week to bring our current investigation topic to life in a really great, messy way. We have materials out, there is a lot of building and creating. We find new ways to explore and come to better understand our wonders as we create together."
The class has used four main avenues of exploration, including learning from experts, reading books, researching online, and using their own eyes and brains to look closely and think about the topic. For rainbows, these avenues led students to experiment with crystal rainbows, build models designed to teach their families how rainbows form, explore empathy and perspective through Rainbow Fish stories, write and shoot a movie about chasing a rainbow complete with costumes and a candy airplane, co-author stories about the lifecycle of a water bottle, and finally, paint water bottles to design a rainbow-themed work of art inspired by Dale Chihuly's glass sculptures.
"Every investigation looks a little different," said Rubin. "But over the course of a year I can embed the skills I want students to gain like like learning and working through the design cycle, collaboration, communication, critical thinking about concepts, and using what you already know in new investigations. I'm also always on the lookout for ways to help grow their sense of compassion for each other and the world around them as part of each investigation. Our rainbow investigation led us to notice and wonder about Dale Chihuly's artwork, which led us to our exploration of water bottles and their role in our environment.
"I love that every investigation is different, I never know how long they will take or where they will go because I never know what we'll wonder or discover along the way. There are so many twists and turns. Wonders lead to discoveries, which ultimately lead to more wonders. Plus, I'm really just a Kindergartener at heart!"
The student's sculpture is being displayed in the Kindergarten Commons and will be available to view throughout the All School Art Show in April, and hopefully for years to come. For Rubin, it is a tangible example of the value of FAB Lab, curiosity, and exploration.
"In our investigations we're bringing learning to life. We're bringing out our creativity and creating so, so much joy."
About St. Anne's-Belfield School
St. Anne's-Belfield School is a co-educational preschool through grade 12 day school of more than 940 students and 150 faculty and staff, with a boarding program in grades nine through twelve. Nineteen countries are represented in the student body, with 41 percent of students receiving financial aid. More information may be found at www.stab.org.