Sen. Warner introduces bill to support national parks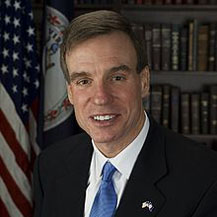 U.S. Sens. Mark R. Warner (D-Va.) and Michael Enzi (R-Wyo.) introduced bipartisan legislation to authorize the minting of coins to commemorate the 100th anniversary of the establishment of the National Park Service (NPS). The bill, at no additional cost to taxpayers, would authorize the Secretary of the Treasury to produce a five dollar gold coin, a silver dollar, and a clad half dollar. The proceeds from sales of the coins would be used by the National Park Foundation for park preservation and to provide programs and services to visitors.
"Our national park system provides outstanding recreation and tourism opportunities for roughly 300 million people a year, and serve as real economic drivers for surrounding communities by generating more than $30 billion in economic activity annually," Sen. Warner said. "Our national parks are truly 'America's Best Idea' and I am proud to sponsor this bipartisan bill to continue supporting them at no additional cost to taxpayers."
"America's national parks are a testament to our heritage and the natural beauty of this nation," said Sen. Enzi. " Our legislation would help the National Park Service raise the private funds needed to share this history with future generations. These coins will forever remind those who visit the parks that they helped preserve an integral part of this great country."
"We are thrilled to have Senators Mark Warner (D-VA) and Mike Enzi (R-WY) introduce the National Park Service 100th Anniversary Commemorative Coin Act," said Neil Mulholland, President and CEO of the National Park Foundation. "This legislation is a unique opportunity for America's extraordinary national park system. We are confident that with the committed, bi-partisan leadership of both senators, the passing of the commemorative coin bill will be realized, ultimately providing incredible support to these cherished places."
"As our daily lives move faster and faster, and our connections to the natural world grow more remote, our national parks offer invaluable opportunities to slow down and reconnect—with nature, with our families, and with own spirit," said Susan R. Sherman, Executive Director, Shenandoah National Park Trust.  This commemorative coin celebrates all that national parks have given us over the past hundred years, and remind us of the importance of protecting and cherishing these magnificent places so that our children and their children can experience their wonder.
2016 will mark the 100th anniversary of the NPS. During that time, the NPS has grown from 37 park units with 6 million acres of land to more than 400 units with 84 million acres of land in all 50 states and all territories.
A copy of the legislation is available here.
Comments