Sen. Mark Obenshain proposes truck toll study for I-81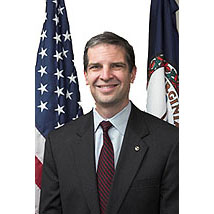 Senator Mark Obenshain (R-Rockingham) filed a bill Friday directing the Commonwealth Transportation Board, along with the Office of Intermodal Planning and Investment, to study the feasibility of utilizing truck tolls to fund transportation infrastructure projects along Interstate 81. By studying the possibility of using revenue from tolling heavy commercial vehicles that are passing through the state, Senator Obenshain continues his commitment to ensuring the safety and improving the condition of this critically important interstate.
"This study will determine the financial impact of tolling heavy commercial vehicles that use our interstate and the potential benefits of using that revenue to fund safety improvements," said Senator Obenshain. "My colleagues and I have a duty to the people of the Shenandoah Valley and the entire Interstate 81 corridor to prioritize and improve I-81."
Senator Bill Carrico (R – Grayson), Chief Co-Patron of this bill and Chair of the Senate Committee on Transportation, said about the study, "We need to focus our efforts and money on improving I-81. It has been overlooked for too long and Virginians in Southwest Virginia and the Valley deserve better. This bill is an innovative approach and I look forward to seeing the results of the study."
With similar programs passed in states like Kansas and Rhode Island, tolls on heavy commercial vehicles have the potential to be a stable source of funding for transportation needs. In Kansas, commercial vehicle toll revenue in 2017 was $48 million and $37 million in 2016. In Rhode Island, an economic impact study predicts $60 million annual revenue to be leveraged for transportation infrastructure improvements.
Senator Obenshain said of the conditions of Interstate 81, "Almost half of statewide truck traffic runs along this interstate and about a fifth of crashes involve a heavy truck. With over 2,000 crashes per year, and 30 crashes a year with a clearance time greater than six hours, we must be willing to look at creative methods to find substantive solutions to this problem."
The bill sets forth a number of stipulations regarding the program that CTB will look at establishing. This includes identifying targeted improvements for specific segments of I-81. It will also develop tolling policy that both minimizes effects on local traffic and the diversion of truck traffic from I-81. Stipulations in the bill also ensure that all funds are utilized exclusively for the benefit of I-81. This bill will not conflict with the authority of the General Assembly, established in 2013, requiring approval for any toll on I-81. This does not amend that requirement in any way.
"I am confident this bill will help us identify solutions to a very real safety crisis. I've had productive, high-level communications with the Administration about this and I hope this will be an area where we can work together." noted Senator Obenshain. "I believe that a willingness to explore innovative and unconventional funding sources can be part of a bipartisan solution to the problems faced by those who travel Interstate 81 every day."
Senator Obenshain represents the Twenty-Sixth District in the Virginia Senate. The district includes the city of Harrisonburg and the counties of Warren, Shenandoah, Page, Rappahannock and part of Rockingham.