Schools, youth groups encouraged to participate in safe teen driving campaign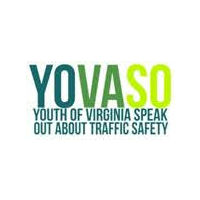 More teen drivers in Virginia will be involved in traffic crashes between the months of May and August than any other time of the year, statistics show. To help save lives and prevent such crashes during the high-risk warm weather months, Youth of Virginia Speak Out About Traffic Safety is offering a statewide safety campaign to Virginia schools and youth groups to help teens and youth develop safe driving and passenger safety behaviors.
The campaign, called "Arrive Alive," focuses on the increased risk of teen driver crashes during the spring and summer months and during prom and graduation.
Arrive Alive kicks off March 19 and runs through May 4. During the campaign, students will work in peer-to-peer groups to develop programs and social media messages that influence their peers to be safer on Virginia roadways. Middle schools will focus their campaign on how to be a safe passenger, pedestrian, and cyclist. High schools will focus on preventing such risky driver and passenger behaviors as texting and driving, speeding, driving with too many passengers, not wearing a seat belt, underage drinking and driving, and joy riding or "cruising."
Interested schools should register for free campaign materials to promote safe driving and passenger safety behaviors at www.yovaso.org by March 16. Registration is free and includes one of the two boxes listed below.
High School Campaign Box
Survive the Drive Bookmarks
Prom/Floral Arrive Alive Card
What to do After a Crash Card
Arrive Alive Posters
Pledge Banner
Phone Wallets with a Safety Message
Middle School Campaign Box
Passenger/Bike/Pedestrian Bookmarks
Arrive Alive Posters
Pledge Banner
"Make Safety a Point" PencilsPhone Wallets with a Safety Message
Arrive Alive is sponsored by YOVASO and the Virginia State Police, and is funded by a grant from the Virginia Department of Motor Vehicles (DMV) Highway Safety Office. In addition, grants from Allstate and State Farm will support educational incentives and materials.
For more information or to register your school or youth group for this exciting campaign, contact Casey Taylor, Program Development Coordinator at 540-375-3596 or visit yovaso.org. YOVASO is Virginia's Peer-to-Peer Education and Prevention Program for Teen Driver Safety and is a program of the Virginia State Police. Membership in YOVASO is free and open to all Virginia high schools, middle schools, and youth groups. YOVASO currently has 100 active member schools.