Salem Red Sox mow down Frederick Keys, 7-0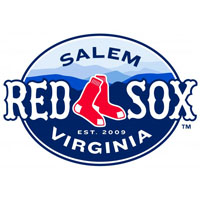 The Salem Red Sox received an early jolt and a stellar pitching performance to blow past the Frederick Keys, 7-0, on Friday night at Nymeo Field.
The early jolt came in the form of a leadoff home run from Joseph Monge, who launched the second pitch of the game over the left field wall for a quick 1-0 lead. It was the second homer of the year for Monge with Salem and the first leadoff shot for the Red Sox in 2016.
The homer barrage continued for the Sox (57-39, 14-13) in the fourth when Jordan Betts clobbered a two-run blast to left for his second dinger of the season, and first since April 10. Rafael Devers joined the party with an impressive two-run clout of his own in the fifth inning. For Devers, it was his sixth home run of the season and extended the Salem advantage to 5-0.
The three home runs swatted in the contest matched a season-high for Salem. In the sixth inning, the Sox tacked on two more via an RBI single from Monge and a run-scoring fielder's choice off the bat of Bryan Hudson.
The run support was more than enough for Daniel McGrath, who limited the Keys (51-46, 15-12) to just three hits in six scoreless frames. McGrath (4-4) earned his third win in his last five starts by keeping the Frederick hitters off balance all night. The southpaw worked around a quartet of walks thanks, in part, to two strikeouts and two doubles plays.
Jorge Marban silenced Frederick over two spotless innings before Yankory Pimentel tossed a scoreless ninth to seal the victory for the Red Sox. Franderlin Romero (4-3) was dealt the loss for Frederick after yielding five runs on seven hits in five innings.
Mike Meyers added three hits to the Salem attack while Monge had two hits and two RBI. Devers and Betts also provided multiple RBI thanks to their home runs.
The Red Sox will look for a second straight win on Saturday night at Nymeo Field with first pitch scheduled for 6:00 pm. Michael Kopech (0-1, 0.64) is set to make his fourth start with Salem against Frederick's Cory Jones (2-3, 3.46). Follow along with all the action on the Salem Red Sox Baseball Network, with pre-game coverage beginning at 5:45 pm.