Local
Richmond Flying Squirrels slip past New Britain, 2-1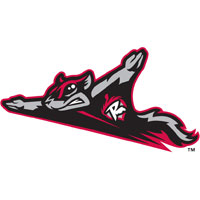 Left-hander Chris Gloor turned in eight spectacular innings as the Richmond Flying Squirrels (27-23) snuck past the New Britain Rock Cats (24-28), 2-1, on Tuesday night at New Britain Stadium.
New Britain lefty Logan Darnell casually retired the first two Squirrels in the first inning.  However, he lost Adam Duvall, walking him with two outs.  That allowed the reigning Eastern League Player of the Week, Mark Minicozzi, to come to the plate.  He proceeded to crush a Darnell fastball into the trees over the left-field wall.  The two-run shot – his fifth of the year – was all Richmond would need, as they went ahead 2-0.
Gloor (4-1) was magnificent through the first four innings.  He allowed only a lone single, and faced the minimum with the aid of a double play.  He also recorded the first two outs in the fifth inning.  However, Jordan Parraz took advantage of an elevated breaking ball and lined it over the left-field wall.  The solo-home run cut the Richmond lead in half, 2-1.
Darnell (4-4) retired for the night after six innings.  He recovered nicely from the first-inning home run, allowing just the two earned runs on seven total hits.  He walked two and struck out five, doomed to the loss despite his strong showing
Gloor's masterpiece lasted eight innings.  He allowed just two hits, walked none and faced just one batter over the minimum.  It equaled the longest outing of Gloor's career and earned him his fourth win of the season.
Richmond closer Daryl Maday entered in the ninth inning.  He worked around a lead-off double from Reynaldo Rodriguez to earn his 10th save of the season, stranding Rodriguez at third base when the ballgame ended.
Game two of the three-game series is scheduled for 6:35 p.m. on Wednesday night at New Britain Stadium.   Richmond RHP Craig Westcott (2-5, 3.80) will make the start against Rock Cats RHP D.J. Baxendale (0-0, —), who will be making his Double-A debut.  Pregame coverage begins on Sports Radio 910, SportsRadio910.com and IHeart Radio at 6:05 p.m.