Top News
Republican legislators push right to work amendment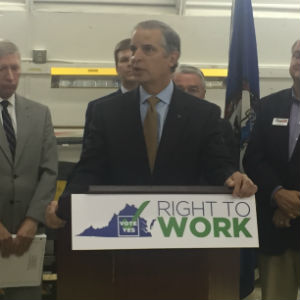 Today, Delegates Dickie Bell, Steve Landes and Tony Wilt and Senator Mark Obenshain gathered with local and statewide business leaders to affirm their support for Ballot Question 1, the right to work constitutional amendment that will be on the ballot this November.
Ballot Question 1 reads:
Should Article I of the Constitution of Virginia be amended to prohibit any agreement or combination between an employer and a labor union or labor organization whereby (i) nonmembers of the union or organization are denied the right to work for the employer, (ii) membership to the union or organization is made a condition of employment or continuation of employment by such employer, or (iii) the union or organization acquires an employment monopoly in any such enterprise?
The proposed amendment places the provisions of Virginia's right to work law into the Constitution of Virginia. While Virginia law may be amended by any future General Assembly, a constitutional prohibition can only be changed by a future constitutional amendment approved by the voters.
The amendment was patroned by Delegate Dickie Bell and Senator Mark Obenshain.  It was passed by the General Assembly twice before being put on the ballot this November.
"I was pleased to patron this amendment with Senator Obenshain during the General Assembly Session, and I look forward to voting for this amendment next Tuesday" said Delegate Bell. "A "Yes" vote on this amendment is a show of support for the rights of workers in the Commonwealth.  Workers should be able to choose their workplace based on their own talents and abilities, not their desire to join a union.  Union membership should be a choice not based on coercion by union bosses or conditions of employment. Strengthening our right to work laws is critical to protect this right."
Nicole Riley, Virginia State Director of the National Federation of Independent Business stated "If you believe that people should have the freedom to take a job without being required to join a union to get or keep their job, then you want to vote YES on Question 1. People should be able to choose whether they want to join a union. This constitutional amendment will not change anything with the current process on how unions can organize. This amendment will future-proof Virginia's status as a pro-business state against any elected officials in the future who might want to change our status as a right-to-work state."
"Enshrining "Right to Work" in our constitution permanently protects our right to work status, promoting economic growth in the Commonwealth" added Delegate Landes. "Right to work states have higher income growth, consistently lower unemployment rates, and have seen higher private sector growth than forced-unionization states. Passing this constitutional amendment will help our economy and individuals in the workforce across Virginia."
"Most Democrats, Republicans and Independents in Virginia support the right to work because they understand that it protects a fundamental workplace freedom," said Ryan Dunn, executive vice president of corporate and government affairs for the Virginia Chamber of Commerce. "By voting 'yes' on question one to put the right to work in Virginia's constitution, we will protect Virginia's status as a top place to find work and start a successful business."
"The National Labor Relations Board and federal bureaucrats have been tipping the scales to favor labor unions in recent years. This is apparent through recent regulations such as the Ambush Election rule" said Delegate Wilt. "This measure significantly shortens the time frame for a union vote while adding additional legal responsibilities to the employer, thereby placing them at a disadvantage. These actions reaffirm our need to place our right to work law in the Virginia Constitution."
"Virginia's status as a right-to-work state has helped us maintain a favorable business climate ranking from some of the top magazines and consultants" added Mike Garber, Chairman of the Harrisonburg-Rockingham Chamber of Commerce. "It has given us a competitive edge in capital investment and job creation, and this Amendment protects that advantage."
"The rights of individuals to choose where to work and the rights of employers to choose who to hire have been integral to Virginia's economic success for centuries. The right-to-work laws have been an extension of that freedom and Amendment One will protect that freedom from outside influences" stated John Bowers, Chair -Greater Augusta Regional Chamber of Commerce Board of Directors.
"Virginia has been a right to work state for decades through statute. Ballot question one on November 8 will simply add another layer of protection to this law, and will ensure that our right to work laws cannot be repealed at the whims of the legislature or Governor" said Delegate Cline, who was unable to make today's press conference.
"The right to work amendment will help ensure Virginia remains one of the top business friendly states in the country for decades to come" said Senator Obenshain. "I appreciate the support from organizations such as the Virginia Chamber of Commerce and the National Federation of Independent Businesses who understand the importance of this amendment passing on Election Day next Tuesday."