Press Conference: UVa. prepares for Memphis in the NCAA Tournament
MODERATOR:  We're now ready to start the University of Virginia press conference. We'll open up the floor for questions.
Q.   Joe, you have said and Akil has as well, when you play teams like Pitt, you enjoy that because it's two teams with similar philosophies battling.  When you play a team such as Memphis, that has kind of a different philosophy, plays faster.  With a do you enjoy about those kind of matchups?
JOE HARRIS:  I think we enjoy the fact it's a contrast of style but it's a battle of wills to see which style will play out and become victorious in the end, I guess.  It's about us getting to our tempo and our pace and playing the game we want to play.
Q.   Joe, you've been the go‑to guy for Virginia before, last year.  But Malcolm hit some big shots too.  Seems like you guys play off each other well.  In a game you're playing against a balance the backcourt, how important is it for you to have a couple of options on the perimeter that can knock down big shots?
JOE HARRIS:  It's extremely important.  Memphis is a very good team.  A lot of talent in the backcourt and we're going to need everybody to show up, not just Malcolm and I, I think across the board, guys coming off bench, we're going to need a good effort all the way around for us to have some success against them.
Q.   Akil, do you feel like you got the jitters out of your system last night?  A lot of teams don't survive that.
AKIL MITCHELL:  I felt like we were nervous, but it's good to get back on the floor and shake some of the rust off.  It's been a while and to try to get to the ACC championship off our back and start playing basketball again.  It's good to have a game like that and then to prepare again for another good team in Memphis.
Q.   Aki, a theory that you don't like the ACC.  You murder everybody in the league.  Out of the league, it seems like you struggle.  Am I on to something there or do you know those ACC teams and enjoy embarrassing them.
AKIL MITCHELL:  I like the ACC.  I like playing in it.  It comes down to matchups.  Once you learn how to play a certain team, you learn the scouting report and stuff like that and you get more comfortable and it helps to play at home also.
But I think there's no real trend there.  It's just a matter of who's in the league and who are we playing on any given night.
Q.   This is a question for both you guys.  How have you been able to be so good in transition defense this year?  Because it's pretty remarkable when you look at your numbers.
JOE HARRIS:  I would say we're so good because that's one of our nonnegotiables as a team, something Coach Bennett really stresses.  We only send two guys to the glass every time in the offensive glass.  It's consistent amongst the guards.  If I don't shoot the ball, I'm getting back on the flight of the ball.  If you're not getting back on the flight of the ball, that's a problem.
AKIL MITCHELL:  Like Joe said, it's one of our nonnegotiables.  It's what we preach from day one and we understand that to get our ‑‑ if we are able to get a set defense every time down the court, then we're tough.  And teams can beat that, they'll have a chance to beat our defense.  So we really reach it.  We really believe for us to be successful, we have to be back on the flight of the ball.
Q.   Memphis swept Louisville, which they play a very fast style.  They got swept by Cincinnati and UConn.  Did you know that, number one?  Two, what do you take from it?
AKIL MITCHELL:  No, I didn't know that.  I didn't know that they had swept Louisville, who is obviously playing really well right now.  Cincinnati, another team that likes to speed you up.  Again, it's a thing of tempo.  If we can get the game into our tempo, like any other game, we have a chance to be successful and it's about who will dictate their style of play.
JOE HARRIS:  I would just say I guess regardless of the tempo and all that, Memphis is just a good basketball team.  They have a lot of guys that are capable of playing even when you slow the down.
So it's about us just coming in, locked in, as prepared as possible from a personnel standpoint.  I think our slides and keeping guys out of the lane is going to be what's most important for us tomorrow.
Q.   For Joe and Akil, obviously, last time, last year, you missed ‑‑ got to Madison Square Garden, played in New York on two separate occasions, you came up a game short.  Has there been any talk amongst you guys about maybe the third time being a charm and what would it mean getting to play in the garden finally?
JOE HARRIS:  I would say we have not put any thought into the possibility of playing in the garden or the Sweet 16.  All of our focus right now is just getting better today in practice, preparing the right way, and getting ready for our game tomorrow.  We haven't had any mention.  Nobody's talked about anything other than just trying to get ready for our game tomorrow.
MODERATOR:  Akil, do you have anything to add?
AKIL MITCHELL:  Not really.  You don't want to add the extra pressure right now.  You want to play the game and what happens, happens.
Q.   You guys have reached this stage in your careers where any game could be your last.  Your college career could last one more game, one more week, two more weeks.  What does that do to you as a player when you are in that deal?
AKIL MITCHELL:  Coach Bennett talked about an ACC championship, a reckless abandon that we have to play with.  Everything's on the line and you can't let it tense you up.  You can't let it freeze you up, thinking this could be my last game.  So you just got to play as free as possible and know that if you lay it on the line, give it everything you have, what happens, happens.  You can't add any extra pressure to yourself because that will just slow you down, tense you up.
JOE HARRIS:  Would say all we can really worry about is going down playing as hard as possible and the results and all that will take care of itself.
Q.   When the Memphis players were out here, they talked about how they'd like to play an up tempo game but feel comfortable when it gets into the half‑court.  I'm curious if they speed you up, how would you feel playing a game that's more of a track meet.
JOE HARRIS:  That's not the way that we play so we hope to not get in a situation where we are taking quick shots offensively or letting them get out in transition.  Like we said earlier, we pride ourselves on not allowing any baskets in transition and always making a team go against a set defense and if they feel comfortable playing in the half‑court, that's great.  That's the way that we want to play.  We want to grind it out with teams and not get sped up.  We want to pray at our pace and hopefully dictate what we do offensively and how we get back defensively and make them play against a set defense on a consistent basis.
Q.   Joe and Akil, last night, Tony changed the lineup to start the second half, put Anthony gill in there.  More focus on some of the cuts and the picks and more precision.  But also it was very obvious, I think to most everyone, that you guys tried some long outlet passes to try to speed up the tempo and change the tempo in the game.  Talk to us a little bit about what was going on there, because that seemed a little out of character.
AKIL MITCHELL:  AG threw a couple of those away and we got on him a little bit.  It was kind of funny.  But it wasn't that we were trying to necessarily speed the tempo up.  We just felt that we had a couple outlets and a couple opportunities to run and we'll take opportunities to run whenever we get them.  So we just misconnected on a few last night.  But AG brings a lot to the table as far as his scoring ability and he definitely helped us out last night for sure.
MODERATOR:  Any other questions?  Gentlemen, thank you very much.  Good luck tomorrow.        .
MODERATOR:  All right.  We're now ready to begin with Head Coach Tony Bennett from the University of Virginia.
Q.   Joe has proven he can be a go‑to scorer for you last year.  Malcolm's hit big shots.  How well have they played off of each other and how much has that helped you this year with your team
TONY BENNETT:  It has, having Malcolm, his ability to put pressure on the defense by getting to the paint, drawing fouls, hitting some big shots.  Has certainly helped Joe and then I think having at times a little more balance inside‑outside, whether it's Anthony Gill or different guys you can flow it.  It just makes the defense not be able to stack the deck as they did at times last year against Joe and that's made us, I think, a little more potent offensively at different times.
Q.   Do you enjoy playing against teams that are opposite philosophy to you, like Memphis?  Seemed like they want to get up and down at all costs.  Do you enjoy that, that challenge of that?
TONY BENNETT:  It certainly is a great challenge.  I'll tell you how enjoyable its after the game.  Any time you play a team that has the ability to score the points in transition and the way they score in the point and their quickness, it tests what you try to take away on a game by game basis.  And so you got to be as ready for it as you can.  You know what you have to do.  Can you execute it?  You might not do it perfectly every possession, but you better do it the majority of the possessions and I think we've talked about this before, who can get to their game first and execute it well.  Because they're trying to speed you up so there's a few things you have to do well to be in this game, and we're aware of those and we will have to be as ready as we can.  But watching them and seeing how quick they get down the floor and things they do is certainly impressive.
Q.   Coach, we were just talking to Joe and Akil about your transition defense, how you guys are giving up 3.2 fast break points per game.  How you have you been able to instill that nonnegotiable in your team and keep it up for a full season?
TONY BENNETT:  When we've done it well, it's given us success.  I don't know if it doesn't get you a victory, but it can an equalizer.  Our guys know it's a discipline.  There are things we work on daily on it, or when we're in practice, but they've seen results when they've had their defense set.  It's hard to play against when you're back pedalling or when guys can get to the paint and slice you up.  That's something that again, from day one, we said there's a few things, you said nonnegotiables.  We use that word a lot.  Make teams play against a set defense.  When you do that, it can change the game.  We've gone against good ones in your league.  This is as good as most we've seen with how quick they get down the floor and how many points they average.
There's a discipline, how many you send back, how hard they go back with vision, how good the guys that go to the offensive glass, how quickly they respond.  It's a corralling, group effort, building walls, doing all those things that are really important to at least make them play against a set defense.
And then you've got other battles to overcome, but that's got to be the first one you win.
Q.   Tony, not to suggest that London's not important every night, but how essential will he be tomorrow in that battle of styles, so to speak?
TONY BENNETT:  He did a great job last night, really got us going when we were struggle.  But your point guard, guards are real important because he'll, if we match him up on Johnson, whoever is going to be our team against a guy like that, but he's so quick.  He maybe the quickest we've gone against.  Certainly one of them, but perhaps the quickest.  So your ability to try to stay down and keep him in front, make him shoot the shots, relying on the help but handling the ball because of the pressure you face, all those things is, a lot's required and we're going to need one of his best performances or one of his most steady performances.
He doesn't have to be perfect but he's been that for us when we've played our best ball.  So we'll expect it, but that's where all of our perimeter guys have to be ready.  I think London knows what's needed and he's got a great challenge in front of him.  Knowing him, I think he's really looking forward to it.
Q.   Coach, is it hard to believe that less than a week ago, you were cutting down the nets at the ACC championship?  It's been such a quick week, kind of a whirlwind
TONY BENNETT:  Yeah.  I thought about it.  This will be our fifth game in eight days.  So you're playing a lot of games.  So you want to take the quality basketball you played in that and carry it on.  But you're in ‑‑ this is a special tournament.  So whatever happened, happened and that's the past.  I told our guys many times, we'll have time after the season to celebrate all those things.  This is about establishing what we have to do and let's learn from when we played against the Carolinas.  We didn't play them in the tournament.  Other teams that were so good in transition, in quick guards when we had success against them, what we have to do against this Memphis team.
You're just kind of advancing to the next step.  We use that staircase mentality.  Two feet on the step, our next step is Memphis and two feet on it.  Of course, we're not going to overlook that or put one foot on the step.  The last seven games of the year, that was our mentality.
It's what's next and that's certainly the opportunity to play well and try to advance is a great, great opportunity.
Q.   Coach, I have a theory that you don't like the ACC.  It seems like you really embarrassed all the teams in the ACC during the season and then outside the league, you guys have had some of your struggles.  Might just be the timing in the season.  Why do you think your team has played so much better inside the league than out?
TONY BENNETT:  We've played solid basketball, certainly, inside the league.  Outside of the league, I think the majority of your ‑‑ you find yourself in the non‑conference. Non‑conference is I think about finding ‑‑ actually, I'll even start, the scrimmages are about ‑‑ we play two scrimmages.  We played Georgetown and Marquette in our closed door scrimmages.
Those are about kind of figuring out what kind of identity do we have to establish.  Nonconference ball is about, okay, what's going to help us?  What do we got to learn about ourselves heading into conference play.  It really is.
We saw a lot of holes.  We saw some good things, but a lot of holes from the Tennessee game, Wisconsin Green Bay, the games we struggled with.  You get into conference play and that's about taking what you've established and trying to own your home court and become a really good road team.
You get into the conference tournament, it's about establishing a level of play that will work in the national tournament.  I think we've improved from those out of conference games.  I mean, that was our last nonconference game besides this last one was December whatever.  We've become a better team because we've learned and tried to improve.  So I think we've just, over the course of that, we've learned some lessons well and gotten better.
I don't dislike the ACC at all.  Our struggles out of conference were earlier in the year.  Maybe you're alluding to last night.  But certainly Coastal Carolina played well.  I thought we played a solid second half to get us in this spot.  Again, it's Memphis next.
Q.   Tony, you mentioned Carolina.  I wondered, were there any games this year where you felt you guys got too sped up, you let the pace kind of get out of hand for what you wanted to do?  Do you bring those ‑‑ cite those examples and do you bring them up to the team in this sort of setting?
TONY BENNETT:  I don't know if it's ever been for a whole game, but certainly possessions or stretches of games where you've felt being impatient or being sped up, trying to shoot quick where it's cost us.
Certainly, you got to remember the good things that have gotten you to the point of playing well, but you're I think foolish if you don't look at the things that cost you.  You have to remember the things that cost you.  Those are the greatest teachers and certainly, we talk about those.  I think our guys are smart enough to know, look, I remember when we got sped up, whether it was Carolina or Maryland or I go to a few of those and say remember those moments that we can't let happen.
I think those are great warnings for how we'll have to play and the things to be cautious of against Memphis.
Q.   Could you talk about Evan's  year and just your thoughts on last night and how it happy you were for him?
TONY BENNETT:  Yeah, very rewarding.  Evan, you know, we've kind of played him a little more as a three.  I alluded to that last night in the press conference.  He's just been patient.  He's worked real hard in practice and I think it's ‑‑ Florida State, Darion Atkins gave us a great lift who hasn't been playing a ton of minutes in the conference tournament.
Then last night, it was Evan.  Kind of guys you wouldn't expect that weren't in the main rotation to step up.  Those are significant victories for us.  To see that whenever you see that, when those guys who have been patient, who you know desperately want to play more, but have, to the best of their abilities, accepted their roles, knowing that they want more, that's what you want because they're competitive.
When you see them then get a chance in that setting and they shine or they help the team, that's very rewarding.  I know for them, for their family and certainly for me as a coach, because Evan and Darion, all these guys are good guys and they're about the team, but you're a competitor.  To see it get rewarded, yeah, that was good.
We needed that.  Who knows, I might not be sitting here if he hadn't knocked down some of those shots.  To see him give us that lift was big.
Q.   Coach, this has sort of been characterized as Memphis athletes against you discipline but plodding kind of ball club.  How athletic have you got to be to get back into that defensive set position that you're talking about?  Are you guys undervalued with athleticism?
TONY BENNETT:  I think athleticism, how you define it is it strength, is it power, skill.  There's different ways to define it.  Do they have more team speed than us and do we have a guy as quick as some of their guards?  Perhaps not.  But I think we have some decent athleticism in our own ways.
It will be a premium or there will be such a challenge to fly back and it's really a discipline.  I mean, plodding, I've been called that.  My teams have before.  Great.  I'm a Wisconsin guy so that doesn't bother me if you say plodding too much.  I think we have better athletes than you think.
I think that they're physical, but they know how they have to be.  That test will be real.  It will be very real.  I've seen teams be back.  That's not even enough, because how quick Jackson is and these guys, they really, they can get in there and even if you're back, you've got to be back with vision, with other guys as I said before, walls built.  And that's significant.
Q.   Tony, I was curious, coming into this season, we heard all about the rule of emphasis and the freedom of movement and it seemed like the process would be offenses were going to take off.  I was wondering why or how are you guys able to make the successful transition to being a defensive team?
TONY BENNETT:  I think our defense is based on positioning.  We don't extend way on the court.  We try to have solid ball pressure, but everything else is predicated on our stance, our position, and it's really a collective defense.
So if you're in good position, hopefully you don't foul as much and you try to play more with your feet and not your hands.  I think our guys have adjusted well to that.  We haven't fouled a ton and I think the way our system is, I'm not saying it plays into the new rule changes, but we're a position‑based team and if you're in position, you shouldn't foul.  And we try to work hard on that stuff in practice.
I think it's a little easier because of not being so stretched and trying to overwhelm or overpower guys by turning them and getting into passing lane.  That's when it gets tough.  We try to help with our other guys and not just do it one on one.  If that's when guys are attacking off the dribble, that's where fouls can occur.  If you have help built behind you, it's maybe a little more effective to not foul as much.
Again, tomorrow, that will be tested.
Q.   When Memphis was out here a few minutes ago, Joe Jackson said he doesn't think the Tigers have seen a defensive team like Virginia this year.  But on the flip side, he doesn't think Virginia has seen a team with guards that are as quick as the ones that they have.  I'm curious if there's a team on your schedule this year that you could point to whose backcourt might be sort of the in the same realm in terms of quickness and team speed.
TONY BENNETT:  I think he might be the quickest.  I'm going to give my alma mater a plug.  We went against green bay and their guard was really quick.
Now, Maryland has some quick guards.  You go against Paige in the ACC.  There are some quick guards, but they have two or three of them, and he may be the quickest.  He might be right in that.  I know they played against good defensive teams.  Coach Brown, we played against SMU.  They defend in that league and there are good defensive teams in that league.  Cincinnati, going down the list.
But that's the challenge.  Someone asked me, I think you asked me that first question, that's the exciting part about, okay, can this system, can our togetherness hold up against that kind of speed and quickness and we'll find out tomorrow.  We've gone against Shane Larkin.  I mean, I'm going back, Ish Smith, I'm going way back, but guys who are really quick.
They challenged us.  At times we did well and at times we didn't.  It's just how ready we are, how set, how alert that will determine that.  But he's got some stuff.  I know he's got the gears and I wish I could go back to that.  I played against Muggsy Bogues, and he was really quick but that doesn't help our guys.  I understand what that quickness can do for you if you don't corral it and contain it.
Q.   You talked last night and today about how much harder Evan has been working in practice and how competitive he's been.  I was wondering if you have to keep him motivated while he's seeing his minutes drop off kind of significantly this year, and also, why hasn't he got more playing time if he's been so competitive in practices?  Is it depth?  Is it matchups?
TONY BENNETT:  I think it's always a challenge for players when they're not playing as much.  But as he saw yesterday, you don't know when your number's going to be called, whether it's foul trouble, injuries or just the game dictates that.  You need something.  And so that's why him being a sophomore, he's in his second year, the ability to really fight to stay as ready as he can and have a big picture mentality.  That's what we talk about.  That's what we motivate and tell him how valuable he is to the team.
Why hasn't he played more this year?  We've been pretty successful.  We've shortened our rotation, and on the perimeter, we've shortened it.  We've gone more with probably the four guards.  He's sort of the fifth at times.  And we played him more as a forward yesterday.  It's just sort of the way it's gone and the way we've been playing.  That style, again, one of the things you've got to stick with.
But you're always a play away, a foul away, an injury away from stepping into that spot.  That's why I like it that these guy work.  It's our job as coaches to encourage them, to work with them after.  Try to do that with Darion, with Teven, and all those guys.  That should give them confidence.  Hopefully, if he's in there tomorrow, ready, but certainly for his future.
Q.   Tony, you have spoken frequently in the past couple weeks about building a program.  Seems invaluable that you've had staff stability throughout your tenure at Virginia.  How do you, as the leader, balance almost your natural selfish inclination to want to keep the group intact with also wanting maybe to promote them to further their own careers?  That's got to be a tough balancing act, maybe.
TONY BENNETT:  Last year, we almost lost Coach Williford.  He was a finalist for the American job.  And when you have success, when you have someone as established as Coach McKay, who has been a head coach at the Pac‑10 at the time and New Mexico, all those schools and the up and coming guys, Coach Sanchez, they're going to have their opportunities.
Of course you want them to stay.  But that's your job as a head coach, you want them if they desire that.  They're in a good situation and I think they realize that.  There's such camaraderie with our staff.  If they can get jobs and that's their dreams, I'll do everything I can.  I think what they've learned has been invaluable in being part of trying to build this and get it to a certain level.  That if there's ADs out there, that's what you look for in a potential head coach that have been part of this.
They'll all make excellent head coaches, of course, but I think they need about six more years of seasoning with me and then they'll be ready to go.  That's my thought.
Q.   In the conference tournament, three games in three days, can that help you this weekend or in this tournament with the short turnaround?
TONY BENNETT:  I think yeah, because certainly physicality, intensity, fatigue, that comes into play.  You say listen, the intense level you played at, your third game after back‑to‑back games against Duke, you've got to treat this game the same.  You have to that level of tenacity, whether you're sore, tired, whatever.  That's neck‑up stuff.  That's the mental toughness that you need.
We've got to have a sharp practice out here.  But they've got to know there's always more than you think.  There's always more mentally and physically than you think you have and that's what's required.  So the fact that they did that for three games in a row, or at least that third day, I'd say, indicates that they can do it again.
MODERATOR:  That's all the time we have, coach.  Good luck tomorrow.
UVA Basketball Fans!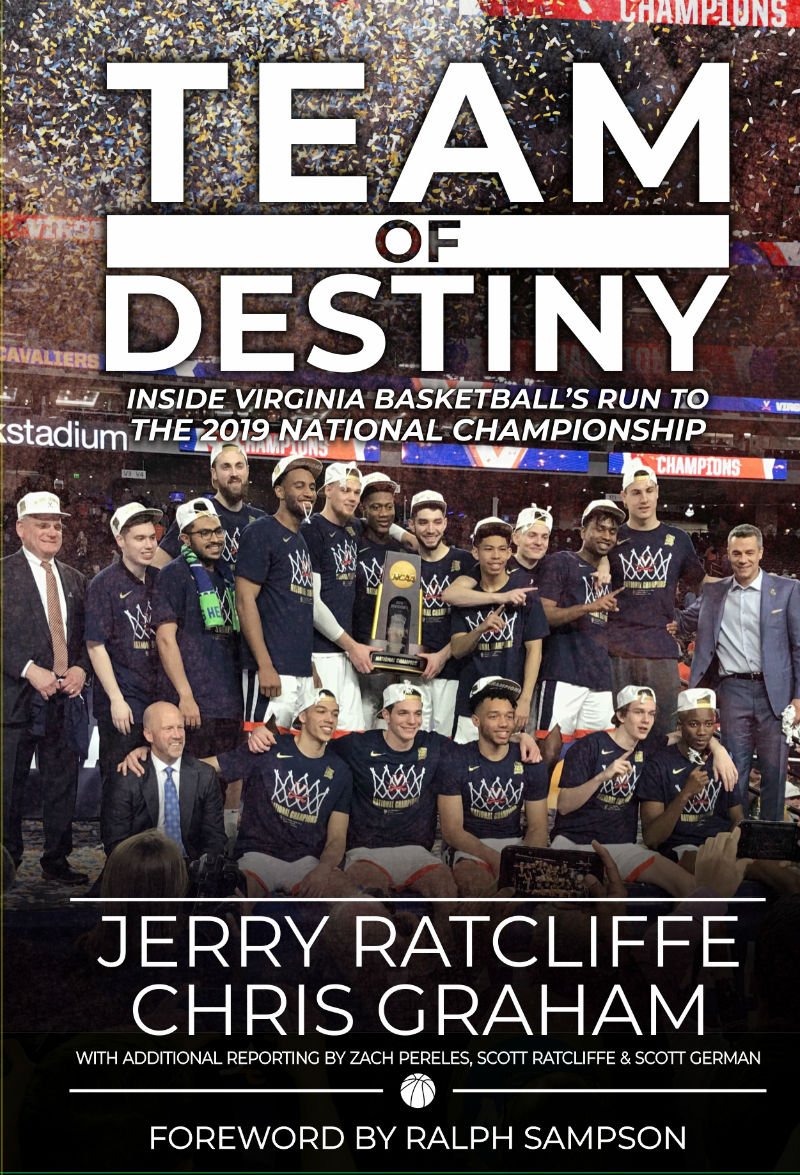 Team of Destiny: Inside Virginia Basketball's Run to the 2019 National Championship
, by Jerry Ratcliffe and Chris Graham, is available for $25. The book, with additional reporting by Zach Pereles, Scott Ratcliffe, and Scott German, will take you from the aftermath of the stunning first-round loss to UMBC in 2018 through to the thrilling overtime win over Texas Tech to win the 2019 national title, the first in school history.
Dick Vitale on Team of Destiny:
"This is a hoops story you will LOVE! Jerry and Chris capture the sensational and dramatic championship journey by Tony Bennett and his tenacious Cavalier team. UVA was Awesome Baby and so is this book!"
Ralph Sampson on Team of Destiny:
"Jerry and Chris have lived and seen it all, even before my time. I highly recommend this book to every basketball fan across the globe. This story translates to all who know defeat and how to overcome it!"
Buy here.
Comments