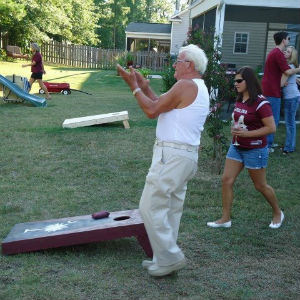 Column by Linda R. Jones
Sports and fathers just seem to fit together.  I've been thinking about the sports my father enjoyed and taught me to appreciate since Super Bowl Sunday is upon us.  American football was one sport he didn't watch regularly but he liked Joe Namath and watched a few games because it was "Broadway Joe."  My father always enjoyed the Noxzema commercials and laughed when he saw Namath getting a close shave with the lovely ladies.  The 1970's produced some phenomenal athletes and I think they were allowed to really perform in their given sport.  Join me on this proverbial stroll down "sports" memory lane with my father.
My father enjoyed heavyweight boxing; I would say during the days of the boxing titans.  I remember listening to certain fights on shortwave radio with my father.  The "Thrilla in Manila" between Muhammad Ali and Joe Frazier is still vivid for me.  I had to visualize what was going on because we were listening to the fight on the radio.  Obviously, this was long before international events could be aired live.  My father's all-time favorite boxer was George Foreman.  He always said Foreman fought like a bull even though he lost to Ali in "The Rumble in the Jungle" in 1974.  I liked the titles of these matches and don't think I've heard anything as catchy since those days.  My father was impressed with Foreman's life following his boxing retirement.  Foreman became an ordained minister and entrepreneur.  I think of my father and smile every time we use the George Foreman grill.  I lost interest in boxing after Mike Tyson bit off Evander Holyfield's ear.
I have great memories of America's favorite pastime with my father – baseball.  My father told me he learned how to play a little in Germany with American soldiers stationed there.  He was chuckling as he told the story.  In that thick German accent, my father said, "At first I thought how hard can it be?  But after a half an hour throwing that baseball back and forth my shoulder started to hurt."  He took us to see the Mets play in New York.  Tom Seaver was the pitcher.  That was such a rush for me because Seaver was the name in pitching during those years.  When Seaver came up to bat, I asked my father why he wasn't going for a full swing like the other players.  My father explained the pitcher couldn't blow out his arm.  I still think the pitcher shouldn't be in the batting line up and it's because I remember Seaver at bat.
Ice hockey ranks equally as entertaining for my father and me.  Again, I think these sports were played in the day when you could really let lose as an athlete.  The hockey players in the 1970's certainly lived up to that.  My father's teams were the New York teams but he so enjoyed watching the Philadelphia Flyers also known as "The Broad Street Bullies."  He couldn't wait to see Dave "The Hammer" Schultz get into the rink.  There was going to be a fight when Schultz got on the ice.  I'm convinced this player is remembered for his fighting skills at the expense of his hockey skills.  To think these guys weren't required to wear helmets.
Of course, my father watched soccer.  Soccer is truly an international sport and ought to be called football since it is in every language.  I watched the 2010 Men's World Cup with my father.  My father had just had his second open-heart surgery and I stayed with him for a month in Florida.  The American men finally qualified.  We watched the games on the Spanish channel because my father only had basic cable.  It worked out because Spanish speaking announcers get excited during the games.  I think we picked up a few phrases in Spanish too.  The American men's team got some horrible calls that cost them the game and my father was screaming at the refs in German and English.  He was recovering well from his surgery and I think that particular game helped.
My father appreciated all sports.  He played golf, swam, rode a bicycle, played badminton with us when he was seventy years old, went kayaking in his late seventies, and learned how to play cornhole in his early eighties.  Good memories of sports with my father.
My healing journey continues.  Join me.  We can watch the Super Bowl.  You never know what can happen in a sporting event.  Bring your father or tell me about him.
(Henry Alfred Rudolph.  Born April 2, 1930.  Died March 2, 2015.)